Research article

Open Access
Identification of dust storm origin in South –West of Iran
Journal of Environmental Health Science and Engineering
2017
15:16
Received: 22 October 2016
Accepted: 3 July 2017
Published: 17 July 2017
Abstract
Background
Deserts are the main sources of emitted dust, and are highly responsive to wind erosion. Low content of soil moisture and lack of vegetation cover lead to fine particle's release. One of the semi-arid bare lands in Iran, located in the South-West of Iran in Khoozestan province, was selected to investigate Sand and Dust storm potential.
Methods
This paper focused on the metrological parameters of the sampling site, their changes and the relationship between these changes and dust storm occurrence, estimation of Reconaissance Drought Index, the Atterberg limits of soil samples and their relation with soil erosion ability, the chemical composition, size distribution of soil and airborne dust samples, and estimation of vertical mass flux by COMSALT through considering the effect of saffman force and interparticle cohesion forces during warm period (April–September) in 2010. The chemical compositions are measured with X-ray fluorescence, Atomic absorption spectrophotometer and X-ray diffraction. The particle size distribution analysis was conducted by using Laser particle size and sieve techniques.
Results
There was a strong negative correlation between dust storm occurrence and annual and seasonal rainfall and relative humidity. Positive strong correlation between annual and seasonal maximum temperature and dust storm frequency was seen. Estimation of RDIst in the studied period showed an extremely dry condition. Using the results of particle size distribution and soil consistency, the weak structure of soil was represented. X-ray diffraction analyses of soil and dust samples showed that soil mineralogy was dominated mainly by Quartz and calcite. X-ray fluorescence analyses of samples indicated that the most important major oxide compositions of the soil and airborne dust samples were SiO2, Al2O3, CaO, MgO, Na2O, and Fe2O3, demonstrating similar percentages for soil and dust samples. Estimation of Enrichment Factors for all studied trace elements in soil samples showed Br, Cl, Mo, S, Zn, and Hg with EF values higher than 10.
Conclusion
The findings, showed the possible correlation between the degree of anthropogenic soil pollutants, and the remains of Iraq-Iran war. The results expressed sand and dust storm emission potential in this area, was illustrated with measured vertical mass fluxes by COMSALT.
Keywords
Iran
RDI
COMSALT
Atterberg limits
Particle size distribution
Wind erosion
Mineralogical composition
Soil and dust chemistry
Background
Arid and semi-arid climates covering much of Iran, make these areas vulnerable to the desertification if they are inappropriately managed. Iran has a land area about 1.64 million km
2
, including 30 provinces, with variable and often extreme climate, with extended periods of high temperatures above 40 °C and with sub-freezing temperatures as low as −20 °C [
1
]. Maximum rainfall reaching around 1200 mm in the north decreases to a minimum of less than 100 mm in the central region. Totally, deserts are covering approximately 20% of Iran's area. Iran's Bureau of Desert Affairs is classifying the greater part of the country as being arid or hyper-arid (see the Fig.
1
in [
1
]). It is believed that the climatic factors are the main desertification causes (The long-term average annual percipitation for arid and semi-arid regions in Iran is 141.1 mm), population, over-exploitation of water resources, and over-grazing [
1
]. During the last years, intensive dust storms frequencies were significantly increased in Iran, while affecting human health in the southern parts of Iran like the southwestern Khuzestan Province and the northern part of southeastern Sistan and Baluchistan Provinces [
1
]. Also, these storms are seriously disturbing the life of the people in these regions and putting even their breathing in trouble [
2
]. Goudarzi and co- workers showed about 17% of total hospital admissions, cardiovascular death, and respiratory mortality occurred when the PM10 concentrations were more than 30 μg/m
3
. Also, sum of respiratory and cardiovascular related to PM10 were 1055 and 189 cases in 2012, when the annual average concentration of PM10 was 321 μg/m
3
in Ahvaz city [
3
]. In similar studies, the association between PM10 levels and daily mortality was investigated in Ahvaz city. Also, Naimabadi and co- workers investigated the relation between cytotoxicity and the risk of PM10 to human lung. The results show that due to inhalation of a higher mass concentration of airborne particles, cytotoxicity can be more severe during dust storm in compare with normal days [
4
–
6
]. Also, this natural disasters can influence the rate of internal migration in these regions. The researchers found out that, on average, natural disasters like dust storms occurrence and drought can increase the number of migrants in the affected areas [
7
,
8
]. The number of people engaging in international migration because of climate changes in comparison with the number of people engaging in internal migration is small [
8
]. However, one outstanding argument is that climate change is able to affect the livelihood and incomes of people in developing countries especially result in an increase their incentives to migrate to rich countries. Two main subjects for researching in Iran are increasing the frequency of dust storm events and dust origins. Some studies based on satellite images and metrological data have been conducted to determine local dust sources. The investigations show that the substantial dust origins in Iran are Al-Howizeh/Al- Azim marshes and Sistan basin: Al-Howizeh/Al-Azim marshes are straddling the Iran-Iraq border and Sistan basin is centered at ~3 l' N, 61.5′E [
9
]. Moreover, the foreign main dust sources are Iraq, Syria, Saudi Arabia and Kuwait. Specifically, Iraq is one of the main sources for dust storm in Iran. Iraq with extensive areas of sand deserts (nearly 40% of the country's total area) should be a source of great concerns. In this country, the rate of desertification has increased because of severe drought of 1990, deforestation actions, inappropriate land use, war impacts, political instability, improper internal decision- making and dam projects in neighboring countries [
10
,
11
]. In order to understand the role of soil consistency and variation in regional metrological parameters in susceptibility of soil to wind erosion and establishing functional remedial strategies and policies, it is regarded as necessary to study the physical, mechanical and chemical characteristics of soil and airborne dust to estimate the sand and dust storm potential of Shalamcheh region (the south-west of Iran). To the best of our knowledge, there are currently no published studies about mechanical, physical and chemical characteristics of soil and airborne dust in this area (Shalamcheh) and estimation of wind erosion capacity, but only some studies on the geochemical and mineralogical characteristics of blown dust at khoozestan province in south-west of Iran were conducted [
12
]. In this paper, one of the sand storm sources at the south-west of Iran in Khoozestan province was recognized and annual vertical mass fluxes were determined by COMSALT. The goal of this paper provides an overview of the current state of knowledge in this area, highlights current controversies, and identifies future research needs. Particularly, the study has focused on the following questions: (i) What are the metrological parameters of the sampling site, their changes during last 60 years and the relationship between these changes and dust storm occurrence, (ii) How to estimate the Reconnaissance Drought Index, (iii) What are the Atterberg limits of soil samples and their relation with soil erosion ability, (iv) What are chemical composition, size distribution of soil and airborne dust samples, and (v) How to estimate the vertical mass flux by COMSALT.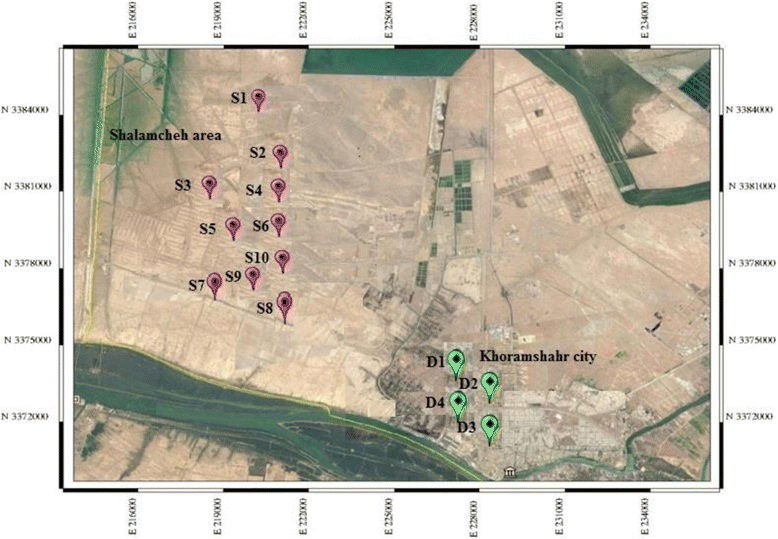 Results
The annual and seasonal changes of meteorological parameters over the last 60 years were studied. Also, the correlation coefficients between the annual and seasonal dust storm occurrence and precipitation, maximum temperature, relative humidity and wind speed were calculated. Data taken from Abadan and Khoramshahr metrological station (32°.26′N, 48°.09′E), which is the nearest station to the Shalamcheh, records the climatic elements within Shalamcheh and dust storm frequencies (times of the dust storm occurrence) for the years 1951–2014. Also, the variations of meteorological parameters during warm period (April to September) and cold period (October to March) for the last 60 years were studied [26]. The annual received rainfall was about 36.8 mm, the annual average maximum temperature was 35.7 °C and the annual average relative humidity was 41% in 2010 (studied period). This area is totally bare and any vegetation cover cannot be seen.
Conclusion
For the first time, the estimated vertical dust fluxes through the COMSALT, soil consistency and variation in regional metrological parameters show the susceptibility of this area (Shalamcheh) to wind erosion. The results indicated the changes in metrological parameters in Shalamcheh located in South –West of Iran. There is an obvious increase in annual mean average Maximum and remarkable reduction in the amount of annual rainfall and the average mean relative humidity content. The strong correlation was seen between changes in metrological parameters and sand and dust storm occurrence in the studied area during the last decades. An extreme dry condition was shown by RDIst estimation as a drought index. The vertical estimated mass fluxes in different conditions, using COMSALT model showed an important role of cohesion forces in inhibition of saltation. The results of models were confirmed by soil consistency tests due to its weak structure, which was expected. The chemistry and mineralogy compositions of the airborne dust samples taken in Khoramshahr city were almost the same and quiet similar to the soil samples collected at several locations downwind. According to the contamination assessments of dust and soil samples, some of these trace elements had EF values higher than 10, suggesting their anthropogenic sources because of the human activities. One of the major non-crustal sources of these trace elements could be the remains of the Iraq-Iran war. Regarding the high vulnerability of this area, wind rose plots and the direction of the dominant blown winds, it is reasonable to conclude that carrying this harmful and contaminated soil by wind can affect the areas, which are far from this region including agriculture lands, would endanger human health. Due to the spread of this crisis to the rest of the world even European countries, it is necessary to identify hotspots, measure their wind erosion capacity and take the effective and functional stabilizing methods of highly erodible regions immediately.
Abbreviations
AAS:

Atomic absorption spectrophotometer
Cd:

Contamination degree
Cf:

Contamination factor and degree of contamination
COMSALT:

Comprehensive model of steady state saltation
EF:

Enrichment factor
EPA:

Environmental Protection Agency
I-geo:

Geo accumulation index
OC:

Organic carbon content
OM:

Organic matter content
RDI:

Reconnaissance Drought Index
RDIst :

Standardized Reconnaissance Drought Index
USDA:

United State Department of Agriculture
XRD:

X-ray diffraction
XRF:

X-ray fluorescence
Declarations
Acknowledgements
The authors gratefully would like to thank Dr. Jasper Kok, who kindly supports this study by providing COMSALT software and helpful advice on this study.
Funding
This research has been supported financially by Amirkabir University of Technology.
Availability of data and materials
The authors do not wish to share their data. All the necessary data have been mentioned in the paper. If other researchers need our data for their studies, they can contact with first Author via email.
Authors' contributions
PB was the main investigator, collected the data, performed the analysis, and drafted the manuscripts. BD, BB and YR supervised the study. All authors read and approved the final manuscript.
Ethics approval and consent to participate
Not applicable.
Consent for publication
Not applicable.
Competing interests
The authors declare that they have no competing interests.
Publisher's Note
Springer Nature remains neutral with regard to jurisdictional claims in published maps and institutional affiliations.
Open AccessThis article is distributed under the terms of the Creative Commons Attribution 4.0 International License (http://creativecommons.org/licenses/by/4.0/), which permits unrestricted use, distribution, and reproduction in any medium, provided you give appropriate credit to the original author(s) and the source, provide a link to the Creative Commons license, and indicate if changes were made. The Creative Commons Public Domain Dedication waiver (http://creativecommons.org/publicdomain/zero/1.0/) applies to the data made available in this article, unless otherwise stated.
Authors' Affiliations
(1)
Department of Chemical Engineering, Amirkabir University of Technology, Tehran, Iran
(2)
Environmental Sciences Research Institute, Shahid Beheshti University, Tehran, Iran