Research article
Open Access
Effect of some operational parameters on the arsenic removal by electrocoagulation using iron electrodes
Journal of Environmental Health Science and Engineering
2014
12:95
Received: 16 December 2012
Accepted: 31 May 2014
Published: 11 June 2014
Abstract
Arsenic contamination of drinking water is a global problem that will likely become more apparent in future years as scientists and engineers measure the true extent of the problem. Arsenic poisoning is preventable though as there are several methods for easily removing even trace amounts of arsenic from drinking water. In the present study, electrocoagulation was evaluated as a treatment technology for arsenic removal from aqueous solutions. The effects of parameters such as initial pH, current density, initial concentration, supporting electrolyte type and stirring speed on removal efficiency were investigated. It has been observed that initial pH was highly effective on the arsenic removal efficiency. The highest removal efficiency was observed at initial pH = 4. The obtained experimental results showed that the efficiency of arsenic removal increased with increasing current density and decreased with increasing arsenic concentration in the solution. Supporting electrolyte had not significant effects on removal, adding supporting electrolyte decreased energy consumption. The effect of stirring speed on removal efficiency was investigated and the best removal efficiency was at the 150 rpm. Under the optimum conditions of initial pH 4, current density of 0.54 mA/cm2, stirring speed of 150 rpm, electrolysis time of 30 minutes, removal was obtained as 99.50%. Energy consumption in the above conditions was calculated as 0.33 kWh/m3. Electrocoagulation with iron electrodes was able to bring down 50 mg/L arsenic concentration to less than 10 μg/L at the end of electrolysis time of 45 minutes with low electrical energy consumption as 0.52 kWh/m3.
Keywords
Arsenic removalElectrocoagulationWastewater treatmentIron electrode
Introduction
Arsenic, a toxic trace element present in natural waters (ground and surface water), has become a major unavoidable threat for the life of human beings and useful microorganisms. Arsenic concentration in water can become elevated due to several reasons like, mineral dissolution, use of arsenical pesticides, disposal of fly ash, mine drainage and geothermal discharge [1]. Arsenic can exist in four different oxidation states: (-III), (0), (III), and (V), however, oxidized arsenite (As(III)) and arsenate (As(V)) are the most widespread forms in soils and natural waters [2]. Under low pH and mildly reducing conditions (>100 mV), As(III) is thermodynamically stable and exists as arsenious acid (H3AsO3, H2AsO3−, HAsO32− and AsO33−). Under oxidizing conditions, the predominant species is As(V) which exists as arsenic acid (H3AsO4, H2AsO4−, HAsO42− and AsO43−) [2]. As(III) is more mobile in groundwater and 25–60 times more toxic than As(V). The concentration of arsenic species is mainly dependent on redox potentials and pH [3].
Arsenic contamination in potable water supplies is a serious health problem in many countries around the world. As it causes to skin, liver, lung and kidney or bladder cancer, it is a big headache to the nations [4]. Due to carcinogenic nature of arsenic compounds, the purpose should now be to reduce the concentration of arsenic-contaminated water to a level as close to zero as possible. By the World Health Organization, the provisional guideline value for arsenic in drinking water is given as 10 μg/L as a provisional guideline value [5]. Therefore, the drinking water containing arsenic should be treated before usage. Several methods have been investigated for removal of arsenic, including ion exchange [6, 7], coagulation and precipitation with iron and aluminum salts [8], adsorption [9–11], electrocoagulation [12–15], membrane techniques like ultrafiltration [16, 17], nanofiltration [18], electrodialysis [19], reverse osmosis [13, 20, 21]. Other techniques like solvent extraction [22], bioremediation [23, 24] have been developed for the removal of arsenic too.
In recent years, new processes for efficient and adequate treatment of various industrial wastewaters with relatively low operating costs have been needed due to strict environmental regulations. At this point, the electrocoagulation process has attracted a great deal of attention in treating industrial wastewaters because of its versatility and environmental compatibility [25, 26]. Electrocoagulation consists of an in situ generation of coagulants by an electrical dissolution of iron or aluminum electrodes. The metal ions generation takes place at the anode; hydrogen gas is released from the cathode. The hydrogen gas would also help to float the flocculated particles out of the water and therefore the process sometimes is named as electroflocculation [27]. Typically, aluminum, iron, carbon, mild steel, graphite and titanium plates are used as electrodes in the electrocoagulation process. But iron and aluminum have been reported to be very effective and successful in pollutant removal at favorable operating conditions. In the iron electrode two mechanisms have been proposed for the production of iron hydroxide, Fe(OH)nwhere n = 2 or 3 [28]:
Electrocoagulation is an emerging water treatment technology and could be a good choice to remove As (III) from water: the amount of required chemicals is much lower, a smaller amount of sludge is produced, no mixing of chemical is required, coagulant dosing as well required over potentials can be easily calculated and controlled, operating costs are much lower when compared with most of the conventional Technologies [29, 30]. It is felt that As(III) might be oxidized to As(V) during electrocoagulation and gets adsorbed on to the metal hydroxides generated. Electrocoagulation has been successfully used to treat arsenic waste waters, with removal efficiencies as high as 90–99% [1, 13, 14, 31]. It was found that the rate of removal depends on the different operational parameters including initial concentration of arsenic, current density, the influence of pH and electrolysis time. Also groundwater could be cleaned for arsenic by electrochemical generated iron cations by Parga et al. [14]. Hansen et al. found analyzing preliminarily the electrocoagulation process in a modified flow sedimentation basin that it could be obtained a removal of 98% from a 100 ppm As solution [15]. Laboratory scale experiments to remove arsenic by the electrocoagulation process were conducted with three types of electrodes, namely iron, aluminum, and titanium [12]. The highest removal of arsenic (99%) was obtained by using iron electrodes at a pH range of 6–8. It may be because of high adsorption capacity of hydrous ferric oxides for arsenic removal. It was noted that As (III) removal mechanism in EC process seems to be oxidation of As (III) to As (V) and subsequence adsorption on to hydrous ferric oxides. As (III) oxidation to As(V) has previously been proposed to occur with dissolved oxygen and soluble intermediates in Fe(II) oxidation acting as rate enhancing species. As (III) oxidation can also occur when Fe(II) is present with Fe(III) oxyhydroxides, and the mechanism has been proposed to involve the formation of reactive Fe intermediate species.
The results on the investigation of the electrocoagulation process for treatment of arsenic indicated that using an electrocoagulation reactor successfully removes arsenic from water or wastewater. Therefore, the purpose of the present study was to investigate the effect of various operational parameters such as initial pH(2, 3, 4, 5, 6, 7 and 8), electrolysis time (0, 3, 5, 10, 20, 30, 45 and 60 minute), current density (0.18 mA/cm2, 0.36 mA/cm2, 0.54 mA/cm2, 0.71 mA/cm2, 0.89 mA/cm2 and 1.07 mA/cm2), initial arsenic concentration (10 mg/L As, 25 mg/L As, 50 mg/L As and 100 mg/L As), supporting electrolyte type (Na2SO4, NaCI and KCI) and stirring speed (50 rpm, 150 rpm, 250 rpm and 350 rpm) on the arsenic removal using electrocoagulation method.
Materials and methods
Materials
All chemicals were of analytical grade and supplied by Merck and Panreac. Stock arsenic solutions of 1.3 g/L were prepared by dissolving arsenic oxide (As2O3) in 2N NaOH and then diluted the solution up to 1 liter with de-ionized water. Solutions of lower concentrations were prepared by proper dilution. The pH of the solution was adjusted by adding either concentrated NaOH or H2SO4.
Analytical methods
The concentration of As was determined by an atomic absorption spectrophotometer (AAS) model Shimadzu AA 6800 equipped with a hydride generation. Hydride generation is, perhaps, the most popular sample derivatization method used for inorganic arsenic detection, since Holak first reported it in 1969 [
32
]. Initially it was developed as a method for AAS, whereby sodium or potassium tetrahydroborate (III) is used for arsine production (Eq. 9, 10). The reduction reagents NaBH
4
and KBH
4
have proved to be exceptionally reliable reagents for the conversion of the sample to volatile forms [
33
]. The hydride generation procedure can be also used for differential determination of As (III) and As (V), based on the fact that As (III) reacts with tetrahydroborate at a higher pH than As (V). Thus tetrahydroborate is acting as a reductant for As (V) as well as a hydride source. The inclusion of on-line hydride generation generally increases the sensitivity of detection and reduces the possible interferences from the sample matrix. In this study sodium tetrahydroborate (NaBH
4
) was of analytical grade (Merck) and was dissolved in sodium hydroxide solution just before use.
The removal efficiency of As in solution treated by electrocoagulation is calculated as follows:
where,
η
is arsenic removal efficiency,
C
0
, and
C
t
are the initial arsenic concentration and concentration of arsenic at time
t
in solution (mg/L), respectively. The energy consumption was calculated by the following equation [
34
];
where, E is electrical energy consumption (kWh/m3), V is potential (volt), I is current (ampere), t is electrolysis time (min) and v is volume of the solution (m3). The relative standart deviation during arsenic analysis was in the range of 0-2%.
Electrocoagulation test
The experiments carried out in a 1400 mL laboratory-scale batch reactor made of plexiglass. Two groups of alternating electrodes being cathodes and anodes (by six plates of each type) made of iron with total area of approximately 1400 cm
2
were arranged vertically. The net spacing between the iron electrodes was 0.5 cm. They were treated with the solution of HNO
3
for cleaning prior to use. At the end of run, the electrodes were washed thoroughly with water to remove any solid residues on the surfaces, and dried. Electrodes were connected to a digital DC power supply characterized by the ranges 0-12 A for current and 0–30V for voltage in monopolar mode. Cell current was measured using Brymen BM–810 multimeter. During the experiments, the electrocoagulation unit was stirred at predetermined speed by a magnetic stirrer (Heidolph MR-3004). The pH and conductivity were measured by a multimeter (WTW, Multiline 340i), which was freshly calibrated by 2 points (4.01; 7.00) before each test. The experimental apparatus is given in Figure
1
.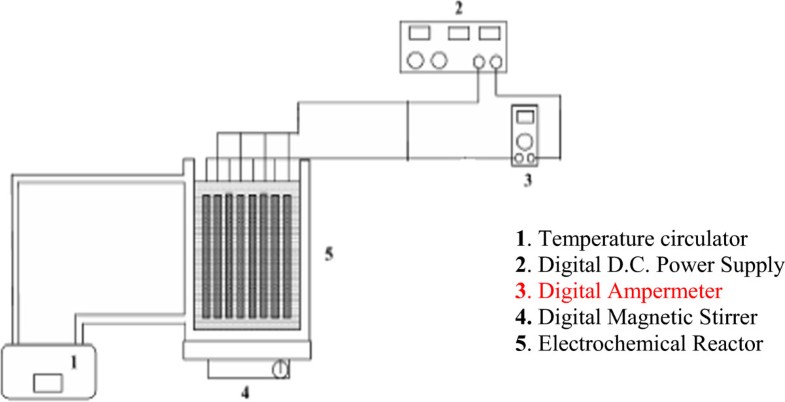 The reactor was fed with 1400 mL of arsenic containing solution at the beginning of each run. The experiment was started by switching the DC power supply on, and then the residual arsenic concentration in samples taken and filtered at predetermined time intervals was measured. The samples were analyzed by atomic absorption spectroscopy (Shimadzu AA 6800) with a hydride generation. In electrocoagulation studies, initial pH, electrolysis time, current density, initial arsenic concentration, supporting electrolyte type and stirring speed were used as parameters whose values are given in Table
1
.
Table 1
Experimental parameters
| Parameters | Chosen parameter ranges | Constant variables |
| --- | --- | --- |
| Initial pH | 2, 3, 4, 5, 6, 7, 8 | initial arsenic concentration: 50 mg/L, current density: 0.54 mA/cm2, stirring speed: 150 rpm |
| Current density, mA/cm 2 | 0.18, 0.36, 0.54, 0.71, 0.89, 1.07 | initial pH:4, initial arsenic concentration: 50 mg/L, stirring speed: 150 rpm |
| Arsenic concentration, mg/L | 10, 25, 50, 100 | initial pH:4, current density: 0.54 mA/cm2, stirring speed: 150 rpm |
| Supporting electrolyte type | 15 mM NaCl, 15 mM KCl, 10 mM Na2SO4 | initial pH:4, initial arsenic concentration: 50 mg/L, current density: 0.54 mA/cm2, stirring speed: 150 rpm |
| Stirring speed, rpm | 50, 150, 250, 350 | initial pH:4, initial arsenic concentration: 50mg/L, current density: 0.54 mA/cm2 |
Conclusions
The present study clearly demonstrated the applicability of electrocoagulation process using the iron electrode for arsenic removal. The effects of operational parameters such as initial pH, electrolysis time, current density, initial arsenic concentration, supporting electrolyte type and stirring speed on arsenic removal efficiency were studied in detail and explained as well. It has been observed that the pH is an important operating factor influencing the performance of electrocoagulation process. Optimal initial pH was found as 4 in the use of iron as sacrificial electrode material in the treatment. Arsenic was as arsenate anions (HAsO42−) and their molecular charge were negative; they pulled the positively charged metal hydroxides electrostatically so arsenic was removed from solution with great efficiency easily. The removal mechanism of arsenic was oxidation of As(III) to As(V) and subsequent removal by adsorption/co-precipitation with iron (III) hydroxide generated in the process. Increasing the current density 0.18 mA/cm2 to 1.07 0 mA/cm2, arsenic removal efficiency increased from 88.88% to 99.68%, energy consumption reached from 0.06 to 1.23 kWh/m3. Increasing current density increased amount of Fe3+ ions and Fe3+ ions reacted with more arsenic (arsenite or arsenate) ions in aqueous media. Arsenic removal efficiency decreased with increasing arsenic concentration. Increasing arsenic concentration increased conductivity of solution. The higher conductivity values decreased energy consumption. Adding supporting electrolyte had not significant effects on the arsenic removal. Supporting electrolyte decreased energy consumption because amounts of ions in solution increased, applied potential decreased and the conductivity of solution increased under constant current density. Stirring speed affected arsenic removal efficiency. Arsenic removal decreased when both stirring speeds fewer than 150 rpm were not proved homogenization in the reactor. The best stirring speed was 150 rpm for arsenic removal. Stirring speed above 150 rpm prevented formation of Fe(OH)3 and to react between arsenic and Fe3+ ions species.
As a result under the optimum conditions of an initial pH of 4, current density of 0.54 mA/cm2, stirring speed of 150 rpm, electrolysis time of 30 minutes, arsenic removal was obtained as 99.50. Electrical energy consumption in the above conditions was calculated as 0.33 kWh/m3. Electrocoagulation with iron electrodes was able to bring down 50 mg/L arsenic concentration to less than 10 μg/L at the end of electrolysis time of 45 minutes with low electrical energy consumption as 0.52 kWh/m3. It can be concluded from this study that electrocoagulation with iron electrodes is a promising technique for arsenic removal.
Declarations
Acknowledgements
The authors are grateful for financial support of Ataturk University Scientific Research Project Department (Project No: 2009/55).
Authors' Affiliations
(1)
Eighth Regional Directorate of State Hydraulic Works (DSİ), Erzurum, Turkey
(2)
Department of Environmental Engineering, Engineering Faculty, Atatürk University, Erzurum, Turkey
(3)
Department of Environmental Engineering, Faculty of Engineering, Balıkesir University, Balikesir, Turkey
Copyright
© Can et al.; licensee BioMed Central Ltd. 2014
This article is published under license to BioMed Central Ltd. This is an Open Access article distributed under the terms of the Creative Commons Attribution License (http://creativecommons.org/licenses/by/2.0), which permits unrestricted use, distribution, and reproduction in any medium, provided the original work is properly credited.