Research article
Open Access
Sequestration of CO2 by halotolerant algae
Journal of Environmental Health Science and Engineering
2014
12:81
Received: 30 September 2013
Accepted: 26 April 2014
Published: 6 May 2014
Abstract
The potential of halotolerant algae isolated from natural resources was used to study CO2 fixation and algal lipid production. Biological fixation of CO2 in photobioreactor in presence of salinity is exploited. The CO2 concentration 1060 ppm gave the highest biomass yield (700 mg dry wt/l), the highest total lipid content (10.33%) with 80% of CO2 removal.
Keywords
Halotolerant algaeCO2 sequestrationBiomassSalinity
Background
The world population has been growing rapidly and has nearly doubled in the last fifty years. This rapid growth has been accompanied by economic development both of which have resulted in high energy demand. Fossil fuels, coal oil and gas have been the major sources which have supplied this energy demand for a long time. However limited availability of these sources coupled with the adverse environmental impacts associated with their extraction and use have prompted the search of other renewable energy sources to meet the future energy demands. Several renewable energy sources such as solar, wind, hydel and biomass energy systems are in various stages of development and their applications are steadily increasing. However, one of the sources, which has attracted considerable attention in recent years is the biofuels such as bioethanol and biodiesel. Biofuels can play an essential part in reaching the target to replace petroleum based transportation fuels and in reducing CO2 emissions, in environmental and economic sustainability are considered carefully [1].
First generations of biofuels, which have attained economic levels of production, have been mainly extracted from food, oil crops and animal fats using conventional technology [2]. Second generation of biofuels have the potential to use waste residues and make use of waste land thereby promoting rural development and improve the economic conditions of developing countries.
The most promising second generation biofuel is biodiesel from algae which is capable of using CO2 and sunlight to produce a variety of organic molecules, particularly, carbohydrates and lipids. These photosynthetic organisms are known to produce high biomass yields with high oil content which can be cultivated in fresh water or wastewater [3]. Another advantage of algae is their ability to tolerate and adapt to a variety of environmental and nutritional conditions. The most positive impact is the utilization of atmospheric CO2 which can have a significant benefit in the context of global warming. However, the water demand for algae is as high as 11-13 million liters/ha/day for cultivation in open pond [4]. Their ability to grow in fresh water, municipal, industrial wastewaters and sea water not only overcomes this hurdle but also provides treated wastewater for other uses.
Unlike other sources of biofuels, algae have the capability to produce different types of biofuels. This multiproduct paradigm of algae makes it an ideal candidate for the concept of biorefining which involves production of many products from a raw material. The products produced from algal biomass are listed in Table
1
. Considering the advantages of algae as a biofuel the present work investigated their effectiveness in CO
2
sequestration. This paper discusses the effectiveness of a halotolerant algae for CO
2
sequestration in a laboratory scale photoreactor with potential to produce biodiesel.
Table 1
Integrated production system of algal biomass: perspective products value and market
Product

Example

Value

Market

Fatty acids

Docosahexanoic acid

High

Food Ingredients

Eicosapetanoic acid

Moderate

Alpha linolenic acid

Moderate

Arachidonic acid

High

Carotenoids

Astaxantin

High

Food Ingredients

Zeaxanthin

High

Lutein

High

Fluorescent label

Phycoerythrin

High

Biomedical

Phycocyanin

Biofuel

Biodiesel

High

Transport industries

Bioethanol

Biohydrogen

Meal

Algal meal residual amount of docosohexanoic acid and eicosapentanoic acid

Moderate

Feeds

(Poultry fish shrimp swine feed)

By product

Glycerin

Low

Biodiesel Industry, algal fuel

Chemicals

Algal alginin caragenin,1.3 Propanediol

Moderate

Biotechnology & Food industry

Nanotech devices

Silicon nanochips

High

Semiconductor, nanotech
Methods
Algal feedstock
The algal culture was isolated from an agricultural runoff using the medium described by Fiore et al. [5]. The medium has the following composition: (mM): MgSO4.7H2O, 162.3; CaCl2 2H2O, 81.6; NaCl, 684.5; and microelements. The microelement stock containing (mM): H3BO3, 9.25; MnCl2 4H2O,1.82; ZnSO4.7H2O,0.15; Na2MoO4.2H2O, 0.25; CuSO4.5H2O,0.06; COCl.6H2O.,0.03; NH4VO3,0.04 and FeEDA solution 160 ml. The final pH of the medium was 7.8. Cultures were routinely checked for purity by microscopic examination and plating. The pure culture of halotolerant algae was identified as Chlorella sp by 18 S rDNA techque.
Experimental
Algal cultivation was done in photoreactors consisting of 2Lborosilicate glass bottles fitted with rubber stopper. CO
2
from a gas cylinder was mixed with air to get desired concentration and bubbled through fine diffuser. The schematic of the experimental set up is shown in Figure
1
. The flow rate (20 ml/min) of gas was measured using a rotameter. The photoreactor was irradiated using standard fluorescent lamps (40 w) placed on both the sides. The excess gas was discharged through an out let tube. The inlet and outlet gas samples were sampled at regular intervals and analyzed for CO
2
. The algal samples were collected from an outlet at regular intervals and analyzed for various parameters.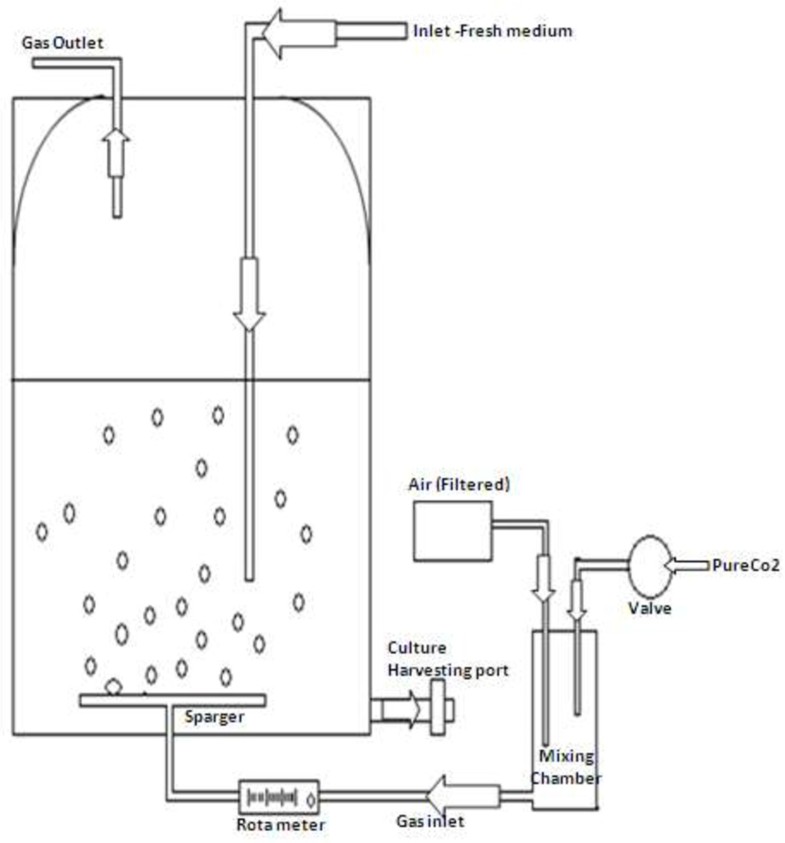 Analytical methods
Algal biomass
The concentration of algal biomass was measured by measuring the optical density of the algal suspension at 680 nm wave length in a UV-visible spectrophotometer (Thermo Electron Corporation Type UV1, England). The dry weight of algae was estimated from a standard graph.
Alkalinity and pH of the suspension was measured. as per standard procedures [6].
Fatty acids estimation
Algal cells were harvested by centrifugation (10000 rpm) for 10 min. The cell pellets separated from the supernatant were washed with distilled water and dried. Fifty mg of dried algal biomass was taken in 15 ml of test tube, 1.6 ml of double distilled water, 4 ml methanol and 2 ml of chloroform were added and mixed thoroughly for 30 S. Thereafter, an additional 2 ml of chloroform and 2 ml of double distilled water were added and solution was mixed for 30 S. Following this, the mixture was centrifuged, at 5000 rpm for 10 min. The upper layer decanted and the lower chloroform layer containing the extracted lipids was collected in another test tube. The extraction procedure was repeated again with the residual pellet and both the chloroform extracts were mixed to gather and evaporated till dryness. The dried total lipids were measured gravimetrically and lipid content was calculated as percentage of algal biomass.
DNA isolation, PCR amplification
During CO2 sequestration, algae samples were processed for DNA extraction as method. 18S rDNA gene was amplified using universal eukaryotic primers F5′-GTCAGAGGTGAAATTCTTGGATTTA-3 and R 5′-AAGGGCAGGGACGTAATCAACG-3′ [7]. The PCR conditions were 30 cycles of denaturation at 95°C for 2 min. followed by annealing at 55°C for 2 min. and final extension at 72°C for 10 min. The reaction mixture content 5 ul DNA template, 1X PCR buffer and 5U Taq DNA polymerase to a final volume of 50 ul. The amplified product was resolved on 1.2% (w/v) agarose.
Results and discussion
Since the objective of the study was to evaluate the CO2 sequestration potential of the isolated halotolerant algae the growth profile was measured at different CO2 concentrations.
Conclusions
A halotolerant algal strain was isolated from agricultural runoff and its potential for CO2 sequestration was evaluated. The strain was found to grow well at a salt concentration of 4% and yielded 204 mg/l biomass in 14 days. The cell growth and CO2 removal efficiency increased with increasing CO2 concentration. The lipid content of the algae also increased with time and the maximum lipid content observed was 10%. Based on 18S rDNA technique, the halotolerant algae was identified as Chlorella sp.
Declarations
Acknowledgement
Authors like to thank Director, NEERI for allowing publishing the manuscript and Department of Biotechnology, New Delhi for financial support.
Authors' Affiliations
(1)
National Environmental Engineering Research Institute, Chennai, India
Copyright
© Ramkrishna et al.; licensee BioMed Central Ltd. 2014
This article is published under license to BioMed Central Ltd. This is an Open Access article distributed under the terms of the Creative Commons Attribution License (http://creativecommons.org/licenses/by/2.0), which permits unrestricted use, distribution, and reproduction in any medium, provided the original work is properly credited. The Creative Commons Public Domain Dedication waiver (http://creativecommons.org/publicdomain/zero/1.0/) applies to the data made available in this article, unless otherwise stated.