Laboratory evaluation of a prospective remediation method for PCB-contaminated paint
Journal of Environmental Health Science and Engineering
2014
12:57
Received: 26 August 2013
Accepted: 19 February 2014
Published: 6 March 2014
Abstract
Background
Paint laden with polychlorinated biphenyls (PCBs) often acts as a point source for environmental contamination. It is advantageous to address contaminated paint before the PCBs transport to surrounding media; however, current disposal methods of painted material introduce a variety of complications. Previous work demonstrates that PCBs can be broken down at ambient temperatures and pressures through a degradation process involving magnesium metal and acidified ethanol. This report is an extension of that work by describing the development of a delivery system for said reaction in preparation for a field test. Two treatment options including the Activated Metal Treatment System (AMTS) and the Non-Metal Treatment System (NMTS) remove and degrade PCBs from painted surfaces.
Findings
AMTS decreased the Aroclor® concentration of a solution by more than 97% within 120 minutes and the Aroclor® concentration of industrial paint chips by up to 98% over three weeks. After removing up to 76% of PCBs on a painted surface after seven days, NMTS also removed trace amounts of PCBs in the paint's concrete substrate. The evaporation rate of the solvent (ethanol) from the treatment system was reduced when the application area was increased. The solvent system's ability to remove more than 90% of PCBs was maintained after losing 36% of its mass to solvent evaporation.
Conclusions
The delivery systems, AMTS and NMTS, are able to support the hydrodechlorination reaction necessary for PCB degradation and are therefore attractive options for further studies regarding the remediation of contaminated painted surfaces.
Keywords
Polychlorinated biphenyl (PCB)RemediationAroclorPaintMagnesium
Findings
Introduction
Despite regulation, PCB-contaminated materials remain prevalent in the environment including remote locations [1, 2]. Renovations and weather conditions cause PCB-contaminated paint to flake, leading to increased concentrations in water and soil [3–5]. Once in the soil, addressing PCBs through dredging, capping and bioremediation is difficult and expensive therefore removing PCBs from painted surfaces before they enter the environment is advantageous [6]. Unless under the EPA action limit, federal law requires PCB-contaminated materials be disposed of in a limited number of licensed landfills, where they often charge by amount of material disposed [7].
Many PCB-contaminated sites contain large structures with painted vertical surfaces. Remediating these sites often require the structures to be broken down and transported, an expensive process that can further contaminate the environment. Incineration of the PCB-contaminated materials can emit other toxic compounds like dibenzodioxins and dibenzofurans [8]. The PCB-contaminated dust that is produced by sandblasting has been reported to spread to surrounding surfaces and the environment [9]. Considering the issues introduced by current remediation techniques, a novel remediation option for painted structures is desired.
Previous research has shown that magnesium, carboxylic acid, and alcohol have the ability to degrade polycyclic aromatic hydrocarbons, like PCBs, through hydrodechlorination [10–12]. This report describes an extension of that research with the development of a delivery system for the reaction components creating degradation options for PCB-contaminated painted structures. The Activated Metal Treatment System (AMTS) and a Non-Metal Treatment System (NMTS) are formulated to be applied to painted surfaces and sealed to minimize evaporation [13]. Calcium stearate, polyethylene glycol, glycerol, and sodium polyacrylate were added to ethanol, limonene and acetic acid to create an application media viscous enough to adhere to a vertical surface. Magnesium metal in the AMTS begins degrading PCBs as they enter the system while the NMTS extracts PCBs from a surface and is subsequently combined with metal to degrade PCBs.
Experimental
Aroclor® degradation through AMTS
A 10.0 μl aliquot of 12,500 ng/μl Aroclor® 1260 was added to individual vials containing 0.50 g of AMTS. After the time displayed in Figure
1
, samples were extracted and analyzed.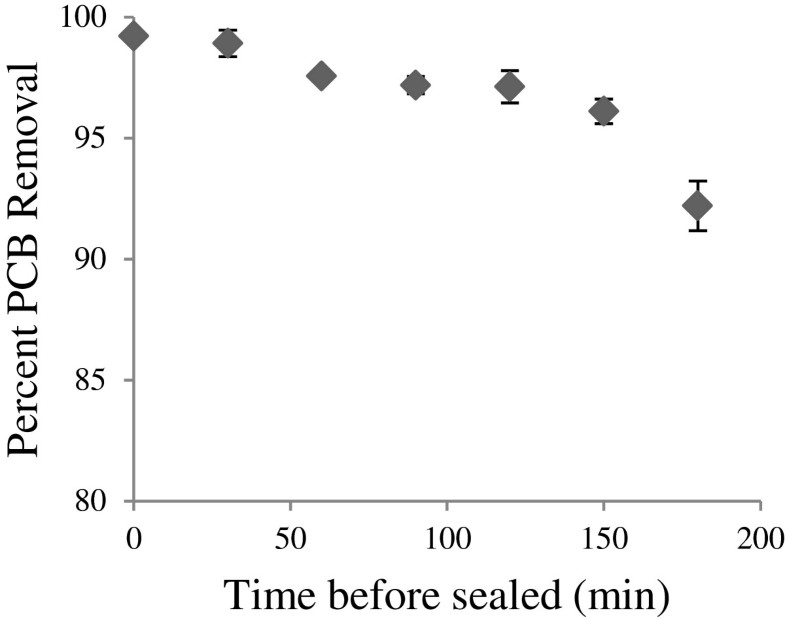 Aroclor® degradation in contaminated paint chips
A 0.8 g aliquot of AMTS was added to 0.15 g of industrial paint chips contaminated with a mixture of Aroclor® 1248 and 1260. After the time displayed in Table
1
, the mixture of AMTS and paint chips were extracted and analyzed.
Table 1
PCB concentrations of industrial paint chip samples reacting with AMTS for 1 and 3 weeks
| Sample location # | Initial concentration (mg/Kg) | 7 Day concentration (mg/Kg) | 3 Week concentration (mg/Kg) |
| --- | --- | --- | --- |
| 1 | 1390 ± 152 | 392 ± 31.0 | 42.6 ± 23.5 |
| 2 | 831 ± 42.0 | 433 ± 136 | 51.2 ± 15.5 |
| 3 | 2290 ± 132 | 491 ± 155 | 104 ± 21.0 |
| 4 | 2397 ± 16.2 | | 52.3 ± 5.77 |
| 5 | 2780 ± 88.5 | | 55.7 ± 9.01 |
| 6 | 4540 ± 181 | | 385 ± 43.0 |
| 7 | 1000 ± 42.0 | | 21.6 ± 0.30 |
| 8 | 1380 ± 79.0 | | 42.0 ± 28.8 |
Remediation of painted surface
Approximately 100 mg of Aroclor® 1254 was added to 0.182 kg of Olympic® fast hide with ultra semi-gloss paint. Three coats of paint were applied in 3.5 cm2 sections to two concrete blocks with a 24-hour drying period in between each coat. One block was treated with the NMTS and sealed while the other was left untreated as a control. Both blocks were sampled in triplicate after three and seven days. A 12.7 mm masonry drill bit was used to sample the concrete at two depths, 0 mm-8 mm and 8 mm-18 mm respectively. The paint and concrete were extracted and analyzed for PCBs.
PCB removal based on solvent evaporation
PCB-laden paint, made by combining 15 mg of PCB congener 151 with 0.073 kg of Olympic® paint, was applied to an aluminum surface in 2 cm
2
areas and allowed to dry. A 3 cm
2
area of NMTS was applied to each paint sample and was sealed with a vinyl polymer in thirty minute intervals. The amount of time that the NMTS remained exposed to ambient conditions before being sealed is displayed in Figure
2
. The painted aluminum surfaces were extracted and analyzed for PCBs three days after the initial application.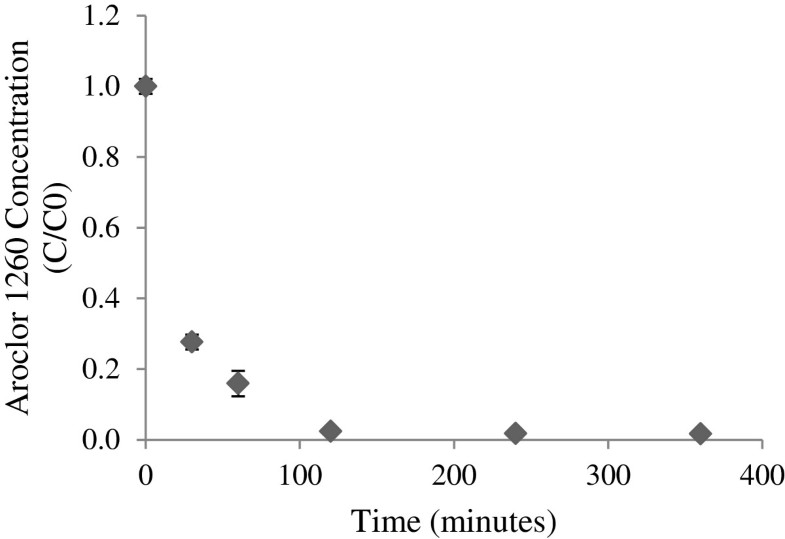 PCB extraction and analysis
Samples were extracted in 10.00 ml of toluene using ultrasonic extraction [14]. Samples were centrifuged and the supernatants were subjected to a sulfuric acid/permanganate clean-up [15]. Analysis was done in duplicate, unless stated otherwise, utilizing a Perkin Elmer AutoSystem XL GC/FID/ECD outfitted with a 30 m Restek Rtx-5 column (0.25 mm ID, 0.25 um df). The temperature was ramped from 120°C to 300°C. Aroclor® concentrations were quantified by summing the area of five characteristic peaks in the mixture [16].
Conclusion
The analysis of the treatment systems attests to the fact that the Activated Metal Treatment System (AMTS) and Non Metal Treatment System (NMTS) are feasible remediation options. Aroclor® mixtures in solution and paint chips displayed significant degradation in the treatment system when activated with magnesium and acidified ethanol. Applied to painted porous materials, the treatment system decreased trace amounts of PCBs below the painted surface. A vinyl polymer sealant was used to minimize solvent loss and encourage PCB removal. Even when the time between the application and the sealing process was extended (simulating the treatment needs of large structures) high treatment efficiency was achieved. The information provided could eliminate the need to demolish and transport contaminated structures by providing a quick cost effective remediation technology. Once under the regulatory action limit, treated materials would be able to be repainted, used again, or resold.
Abbreviations
(PCBs):

Polychlorinated biphenyls
(AMTS):

Activated metal treatment system
(NMTS):

Non-metal treatment system
(EPA):

Environmental Protection Agency
(GC):

Gas chromatograph
(FID):

Flame ionization detector
(ECD):

Electron capture detector.
Declarations
Acknowledgements
The authors would like to thank the Environmental Security Technology Certification Program (ESTCP) for funding this research along with Geosyntec for their additional support.
Authors' Affiliations
(1)
Department of Chemistry, University of Central Florida, Orlando, USA
(2)
John Jay College of Criminal Justice, New York, USA
(3)
National Aeronautics and Space Administration, Kennedy Space Center, Florida, USA
Copyright
© Saitta et al.; licensee BioMed Central Ltd. 2014
This article is published under license to BioMed Central Ltd. This is an Open Access article distributed under the terms of the Creative Commons Attribution License (http://creativecommons.org/licenses/by/2.0), which permits unrestricted use, distribution, and reproduction in any medium, provided the original work is properly credited.