Research article

Open Access
Response surface analysis of photocatalytic degradation of methyl tert-butyl ether by core/shell Fe3O4/ZnO nanoparticles
Journal of Environmental Health Science and Engineering
2014
12:1
Received: 19 December 2012
Accepted: 29 September 2013
Published: 6 January 2014
Abstract
The degradation of methyl tert-butyl ether (MTBE) was investigated in the aqueous solution of coated ZnO onto magnetite nanoparticale based on an advanced photocatalytic oxidation process. The photocatalysts were synthesized by coating of ZnO onto magnetite using precipitation method. The sample was characterized by X-ray diffraction (XRD), scanning electron microscopy (SEM), and vibration sample magnetometer (VSM). Besides, specific surface area was also determined by BET method. The four effective factors including pH of the reaction mixture, Fe3O4/ZnO magnetic nanoparticles concentration, initial MTBE concentration and molar ratio of [H2O2]/ [MTBE] were optimized using response surface modeling (RSM). Using the four-factor-three-level Box–Behnken design, 29 runs were designed considering the effective ranges of the influential factors. The optimized values for the operational parameters under the respective constraints were obtained at PH of 7.2, Fe3O4/ZnO concentration of 1.78 g/L, initial MTBE concentration of 89.14 mg/L and [H2O2]/ [MTBE] molar ratio of 2.33. Moreover, kinetics of MTBE degradation was determined under optimum condition. The study about core/shell magnetic nanoparticles (MNPs) recycling were also carried out and after about four times, the percentage of the photocatalytic degradation was about 70%.
Keywords
Fe3O4/ZnO nanoparticles
Photocatalytic degradation
MTBE
Response surface modeling
Introduction
Methyl tert-butyl ether (MTBE) is commercially used as an octane enhancer for gasoline. It can reach underground water resources in different ways such as leaking underground fuel tanks, leaking pipelines, tank overfilling, faulty construction at gas stations, spillage from vehicle accidents and home owner releases may result in contamination of ground and surface water resources[1, 2]. The admissible limit of MTBE in drinking water is 20–40 ppb[3, 4] which has resulted in the prevention of this material to be used as a gasoline additive since May 2006[5]. The toxicity of MTBE to animals and humans is well documented. It is well known that MTBE is carcinogenic to animals, which is due to diverse properties such as the existence of ether bond and long sub-branches (more than one carbon) in its structure. MTBE is known as a very resistant substance to natural degradation[6, 7]. In recent decades, many technologies have been devoted to MTBE degradation in water. Some of these technologies included adsorption on granular activated carbon (GAC), air stripping, advance oxidation processes (AOPs) and biodegradation[8]. Over the past three decades, AOPs were efficient methods for degradation of organic contaminants. An AOP is a photocatalysis process, which mineralizes and degrades the organic contaminants, accordingly[9]. Many researchers have studied the photocatalytic degradation of MTBE using TiO2 and metal-doped TiO2 in either powder or thin film form[9–11]. However, most of these studies have followed the classical method of optimizing one factor at a time (OFAT), which is a time consuming and laborious task. This method, also, does not consider the interactions among the operational factors. However, Response surface methodology (RSM) can combine mathematics and statistics to analyze the relative significance of various operating parameters even in complicated systems[12]. Hence, this method can be applied to determine the optimum conditions of various reactions in a more convenient way resulting in saving time, labor, and cost.
Many types of photocatalytic reactors have been proposed according to respective application demands; among them, however, a slurry type reactor has proved to be most attractive for degrading organic contaminants which dissolve in water namely in terms of reaction surface area per unit volume of the reactor[13]. Nonetheless, one of the main problems of the suspended photocatalyst system is that it requires a separation step to recover photocatalyst particles. In this case, a suitable technique such as centrifugation or filtration step is required to reuse fine photocatalyst particles[14].
In this work Fe3O4/ZnO core/shell composite catalyst was synthesized and then characterized by XRD, SEM and VSM. The magnetic core enhancing the separation properties of suspended particles from solution and the photocatalytic properties of the outer shell zinc oxide are used to destroy organic contaminants in wastewater[15]. The four effective parameters, optimized using RSM, were (i) pH, (ii) coating of ZnO onto magnetite concentration, (iii) MTBE initial, and (iv) molar ratio of [H2O2]o/[MTBE]o. In the end, kinetics of MTBE degradation was determined in optimum condition.
Materials and methods
Materials
Methyl tert-butyl ether (99.9%), ferric chloride (FeCl3_6H2O), hydrogen peroxide (35% w/w), ferrous sulfate (FeSO4_7H2O), zinc acetate (ZnAC2_2H2O), aqueous ammonia (NH3_H2O) HNO3 and NaOH were purchased from Merk. ammonium carbonate ((NH4)2CO3) purchased from Dae jung.
Instruments
The instruments used for studying synthesized nanoparticles were XRD (Equinox 3000, Inel france), SEM (AIS2100, seron technology), BET (Autosorb-1, Quantachrome), 2 lamps (UVa 11W, Philips, Netherland), gas choromatography (GC) equipped with a helium ionization detector (HID) (Model GC-Acme 6100, Korea), vibration sample magnetometer (VSM, Meghnatis Daghigh Kavir Co., Iran), magnetic stirrer (Dalahan Labtech, LMS-1003) and digital pH meter (Elmetron, Cpc-501).
Preparation of the photocatalyst
A co-precipitation method was used to synthesize the Fe3O4 magnetic nanoparticles (MNPs). Co-precipitation is a facile and convenient way to synthesize MNPs from aqueous salt solutions. This is accomplished by addition of ammonia to mixture of ferric chloride (0.5 M) and ferrous sulfate (0.5 M) with molar ratio of 1.75:1 under inert argon protection until pH value reached to 9. After 30 min stirring, the precipitate collected using a magnet and washed with deionized water until pH reached to 7. The modification process has been carried out via sonication of 4 g Fe3O4 and 200 ml sodium citrate (0.5 M) mixture for 20 min, which was then stirred for 12 h at 60°C under Ar protection. Afterwards, the precipitate collected and rinsed with acetone. The Fe3O4/ZnO core/shell MNPs were obtained by coating the modified Fe3O4 MNPs with direct precipitation using zinc acetate and ammonium carbonate. The modified Fe3O4 added to 100 ml of deionized water and sonicated for 20 min to make a stable ferrofluid. Then, 30 ml of this ferrofluid was added into a flask to form Fe3O4/ZnO composite. Two solutions were made by adding 12.16 g ZnAC2_2H2O and 7.6 g (NH4)2CO3 respectively into 100 ml of deionized water, and then, these two solutions were dropped slowly into the flask. Then the precipitate was collected and washed with water, aqueous ammonia (pH 9) and ethanol. Thereafter, the precipitate was dried under vacuum in 12 h and calcined according to desired calcination temperature and time[16].
Experimental set up
Photocatalytic degradation of MTBE was performed in a slurry batch reactor which was configured with a cylindrical glass with one liter in volume. In order to control the temperature of the reactions, the reactor was provided with a jacket for water circulation. Two lamps (11w, Philips, Netherland), which were immersed in the solution, were applied to supply the UV radiation in the reactor. The reactor was tightly sealed and in order to ensure well-mixing during irradiation, the nanoparticles were dispersed in the solution under magnetic stir. Besides, the air was injected into the reactor to supply the required amount of oxygen for the photocatalysis.
Experimental design by RSM method
Initially, preliminary experiments by following single factor study method were performed in order to find the most effective experimental parameters and their ranges affecting the photocatalytic degradation of MTBE. The selected parameters were catalytic dose, initial concentration of MTBE, initial concentration of H2O2 and pH.
The four selected experimental parameters were optimized using RSM considering them as independent variables and removal percentages of MTBE as response variables. By applying Box-Behnken design experiments, the required number of experiments were designed. This method was used because it is very efficient and does not contain any point at the vertices of the cubic region formed by the upper and lower limits of the variables. Such design along with RSM is widely applied for optimization of various physical, chemical and biological processes[17, 18].
As expressed in equation
1
, the results were fitted to an empirical quadratic polynomial model for the aforesaid parameters using RSM.
where Y denotes the response variable, β
0
the intercept, β
1
,β
2
,β
3
,β
4
the coefficients of the independent variables, β
11
,β
22
,β
33
,β
44
the quadratic coefficients, β
12
,β
23
,β
31
,β
41
,β
42
,β
34
the interaction coefficients and A, B, C, D are the independent variables. Multivariate regression analysis and optimization process were performed by means of RSM and using Design Expert software (version 6.0.8, Stat Ease Inc., USA). The obtained values from analysis of variance (ANOVA) were found significant at p < 0.05. The optimum values for the independent variables were found using three-dimensional response surface analysis of the independent and dependent variables. The designed experiments plus the experimental and predicted values of the response are presented in Table
1
. Also, the variations are shown in Figure
1
.
Table 1
Box–Behnken experiments along with actual and predicted values of responses
Std

Run

B, initial MTBE concentration (ppm)

A, catalytic dose (g/L)

C, pH

D, initial H2O2 (ppm)

Y, COD MTBE removal (%)

Actual

Predicted

7

1

100

1

7

10

59.1

59.19

11

2

50

2.5

7

10

92.5

92.28

3

3

50

2.5

9

5

90.1

90.27

24

4

100

2.5

9

10

59.5

60.25

9

5

50

2.5

7

0

94.5

94.75

6

6

100

4

7

0

58.4

58.97

2

7

150

2.5

5

5

55.3

55.78

23

8

100

2.5

5

10

63.5

62.95

29

9

100

2.5

7

5

77.8

76.78

12

10

150

2.5

7

10

56

55.5

22

11

100

2.5

9

0

62

62.12

10

12

150

2.5

7

0

57

56.97

28

13

100

2.5

7

5

76.8

76.78

13

14

100

1

5

5

58.5

58.12

5

15

100

1

7

0

60.2

60.45

15

16

100

4

5

5

57.5

56.84

4

17

150

2.5

9

5

53

52.38

17

18

50

1

7

5

89.3

88.07

27

19

100

2.5

7

5

75.8

76.78

20

20

150

4

7

5

47.8

48.6

1

21

50

2.5

5

5

91.2

92.47

14

22

100

1

9

5

55.8

56.22

26

23

100

2.5

7

5

77.3

76.78

19

24

50

4

7

5

87.2

86.94

16

25

100

4

9

5

55

54.13

21

26

100

2.5

5

0

66.2

65.02

8

27

100

4

7

10

55.9

56.3

25

28

100

2.5

7

5

76.2

76.78

18

29

150

1

7

5

52

51.84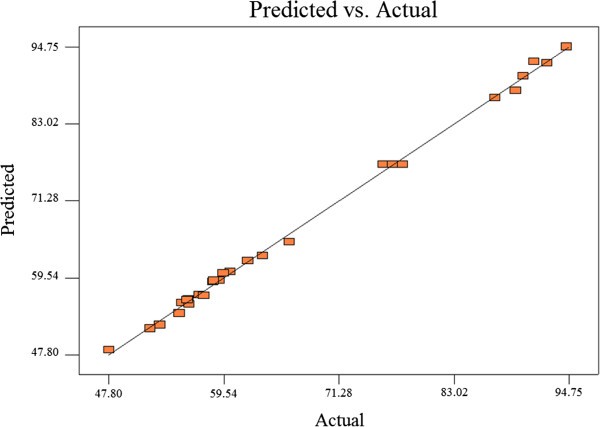 Conclusions
In this study, Fe3O4/ZnO nanoparticles were successfully synthesized with average crystal size of 11.2 mm by precipitation method. Synthesized nanoparticles then utilized as a catalyst for the photocatalytic degradation of MTBE. The optimum levels of the operational parameters under the related constraint conditions were found at pH of 7.02, Fe3O4/ZnO MNPs concentration of 1.78 g/L, initial MTBE concentration of 89.14 mg/L, and [H2O2]/[MTBE] molar ratio of 2.33. In addition, according to the Langmuir-Hinshelwood kinetic model, the apparent pseudo-first-order constant was 0.033 (1/min) for experimental results under optimum conditions. Also the recycling and reuse of MNPs was significantly successful.
Abbreviations
XRD:

X-ray diffraction
SEM:

Scanning electron microscopy
VSM:

Vibration sample magnetometer
RSM:

Response surface modeling
MNP's:

Magnetic nanoparticles
GAC:

Granular activated carbon
OFAT:

Optimizing one factor at a time
GC:

Gas chromatography
HID:

Helium ionization detector
AVOVA:

Analysis of variance
ZPC:

Zero point charge
AOP's:

Advanced oxidation processes.
Declarations
Acknowledgments
We would like to express our deep gratitude to Professor Manouchehr Nikazar our research supervisor, for his patient guidance, enthusiastic encouragement and useful critiques of this research work.
Authors' Affiliations
(1)
Department Of Chemical Engineering, Amirkabir University Of Technology, Tehran, Iran
(2)
Department Of Chemical And Petroleum Engineering, Sharif University Of Technology, Tehran, Iran
Copyright
© Safari et al.; licensee BioMed Central Ltd. 2014
This article is published under license to BioMed Central Ltd. This is an open access article distributed under the terms of the Creative Commons Attribution License (http://creativecommons.org/licenses/by/2.0), which permits unrestricted use, distribution, and reproduction in any medium, provided the original work is properly cited.