Research article

Open Access
Urban runoff treatment using nano-sized iron oxide coated sand with and without magnetic field applying
Journal of Environmental Health Science and Engineering
2013
11:43
Received: 21 December 2012
Accepted: 2 November 2013
Published: 20 December 2013
Abstract
Increase of impervious surfaces in urban area followed with increases in runoff volume and peak flow, leads to increase in urban storm water pollution. The polluted runoff has many adverse impacts on human life and environment. For that reason, the aim of this study was to investigate the efficiency of nano iron oxide coated sand with and without magnetic field in treatment of urban runoff. In present work, synthetic urban runoff was treated in continuous separate columns system which was filled with nano iron oxide coated sand with and without magnetic field. Several experimental parameters such as heavy metals, turbidity, pH, nitrate and phosphate were controlled for investigate of system efficiency. The prepared column materials were characterized with Scanning Electron Microscopy (SEM) and Energy Dispersive X-ray analysis (EDXA) instruments. SEM and EDXA analyses proved that the sand has been coated with nano iron oxide (Fe3O4) successfully. The results of SEM and EDXA instruments well demonstrate the formation of nano iron oxide (Fe3O4) on sand particle. Removal efficiency without magnetic field for turbidity; Pb, Zn, Cd and PO4 were observed to be 90.8%, 73.3%, 75.8%, 85.6% and 67.5%, respectively. When magnetic field was applied, the removal efficiency for turbidity, Pb, Zn, Cd and PO4 was increased to 95.7%, 89.5%, 79.9%, 91.5% and 75.6% respectively. In addition, it was observed that coated sand and magnetic field was not able to remove NO3 ions. Statistical analyses of data indicated that there was a significant difference between removals of pollutants in two tested columns. Results of this study well demonstrate the efficiency of nanosized iron oxide-coated sand in treatment of urban runoff quality; upon 75% of pollutants could be removed. In addition, in the case of magnetic field system efficiency can be improved significantly.
Keywords
Urban runoff
Iron oxide nano particles
Sand filter
Magnetic field
Introduction
Storm water runoff from paved surfaces can carry large loads of various pollutants including heavy metals, hydrocarbons, nutrients and pathogens [1–3]. These pollutants may originate from motorized vehicle emissions, automobile tires, brake pads, corrosion of pavement, chemical deposition on or near the pavement surface and anthropogenic activities [1, 4]. On the other hand, since impervious surfaces such as roofs and roads dominate the land cover of urbanized areas, cities suffer from increased and more intense runoff, reduced groundwater recharge and runoff water quality [5], increased peak flows [6] and hydrological, physico-chemical and consequent biological disturbance of the receiving waters [7, 8]. Special attention should be paid to heavy metals in storm water runoff due to their toxicity [9]. Some of the most frequently reported metals in storm water are cadmium (Cd), lead (Pb) and zinc (Zn) that are considered to be of the great concern. Concentrations of these ions in storm water commonly exceed surface water quality guidelines by 10 times or more [10]. Release of heavy metals into natural receiving waters can cause accumulation of non-biodegradable metals in the environment, causing both short-term and long-term adverse effects on human life [11]. Phosphorus (P) is the most commonly present substance in freshwater bodies subject to eutrophication [10]. Excess Nitration (N) in storm water leads to saturation of nitrogen, water bloom and associated water-quality problems [12].
Several methods have been developed and used for treatment of storm water runoff from urban area. Natural and constructed wetlands, for example, have been investigated as practical alternatives for treating runoffs in several studies. These systems allow reducing primarily particulate pollutants. The constructed wetlands and retention ponds require large area and these systems were mostly applied for pollution source areas at catchment scale. Filtration of storm water through a filter system filled with adsorbents (e.g. zeolite, peat, granular activated carbon or sand) is another possible treatment method that is relatively recent innovation for treatment of runoff [13].
Iron (hydr) oxide-coated sand (IOCS) has shown to have high efficiency in removing microorganisms, turbidity and heavy metals [14]. Many studies have used IOCS to remove lead [15], arsenic [16], nickel and copper [17], organic matter [18], humic [19, 20], and phosphate [21] from aqueous solution and/or wastewater. On the other hand, magnetic treatment of wastewater can be applied to eliminate heavy metals, color, phosphates and oil at low concentration. Some studies have reported that magnetic field affects properties of water such as light absorbance, pH, zeta potential and surface tension. However, these idea have not always been confirmed [22]. In recent years, attention has been paid to the possibility of enhancing treatment of wastewater by static magnetic field. However information is not available about the effect of magnetic field on the biological degradation of wastewater organic matter [23]. Magnetic field was used to improve anaerobic ammonium oxidation in which nitrogen removal increased by 30% with 25% less time [24]. In addition, magnetic field has been used for formaldehyde biological degradation with 30% increases in removal efficiency if compared with other technologies [25].
For that reason, the aim of this study was to investigate the efficiency of sand filter coated with nano iron oxide for treatment of urban runoff. In addition to this, magnetic field was applied to the coated sand filter to find out if the magnetic field can further improve the treatment of urban runoff.
Materials and methods
Chemicals and reagents
All chemical materials used in this study were provided from Merck Company. Synthesized urban runoff containing lead, zinc, cadmium, nitrate and phosphate, were prepared using stock solution of PbCl
2
, ZnSO
4
.7H
2
O, (CH
3
COO) 2Cd.2H
2
O, KNO
3
and K
2
HPO
4
, respectively. Turbidity and pH of synthesized runoff were adjusted using Kaolin and, 1 N HNO
3
and NaOH solutions, respectively. Samples were collected in 100 mL bottles. The characteristics of the synthesized runoff are presented in Table
1
.
Table 1
Characteristics of synthesized runoff [26]
| Pollutant | Concentration |
| --- | --- |
| Turbidity(NTU) | 60 |
| Lead(mg/l) | 2.37 |
| Zinc(mg/l) | 2.54 |
| Cadmium(mg/l) | 0.52 |
| Nitrate(mg/l) | 4-5 |
| Phosphate(mg/l) | 9-10 |
| pH | 6.5-7.5 |
Sand filter media
Filter media was packed with local quarry sands ranging between 0.85 and 2.36 mm. Before used in column and coating, The sand was soaked in 8% nitric acid solution overnight, rinsed with deionised water to pH = 7.0 and dried at 105°C. The sands were coated with iron oxide according the method suggested by Mostafa et al. [27]. The solution of Fe(III) was prepared by dissolving reagent grade FeCl3·6H2O in deionized water. The solution was stirred with a magnetic stirrer at 200 rpm and 0.5 M NaOH solution was added for adjusting pH at 9.5 ± 0.1 and mixed for 5 min. The mixed solution was introduced to 100 g sand in a conical flask and was placed in a temperature-controlled shaker at 60 ± 1°C, then stirred at 200 rpm for 24 h. After that, the coated sand was dried in an oven at 105 ± 1°C for 24 h. Finally, the prepared sands particle was washed 5–7 times with deionized water for remove uncoated iron particle, dried at 60 ± 1°C for 24 h and used for future experiment.
Column tests
Columns used in this study were made of Plexi Glass with 5 cm internal diameters, 35 cm height, and 20 cm medium bed depth. Since the columns were operated in down flow mode, to avoid flow channelization, an additional 8 cm water head was provided on the columns surface. Two magnets of 20 cm high with 0.7 T (Tesla) magnetic charge density was mounted around one of the columns to investigated the effects of magnetic field on the removal efficiency of the pollutants from the synthesized runoff. The flow rate of runoff from both columns was adjusted at 20 mL/min leading to 20 min retention time [
14
] of runoff in the column. Schematic of the present pilot is shown in Figure
1
(Magnets are not shown). The samples were obtained from the bottom of columns and then were analyzed for investigated parameters. Each column was operated for 60 hours, during which 10 samples were collected. The experimental data were conducted in triplicate and average value was considered. Before analysis of nitrate and heavy metals, pH of the samples was reduced to 2 by adding sulfuric and nitric acids, respectively [
28
].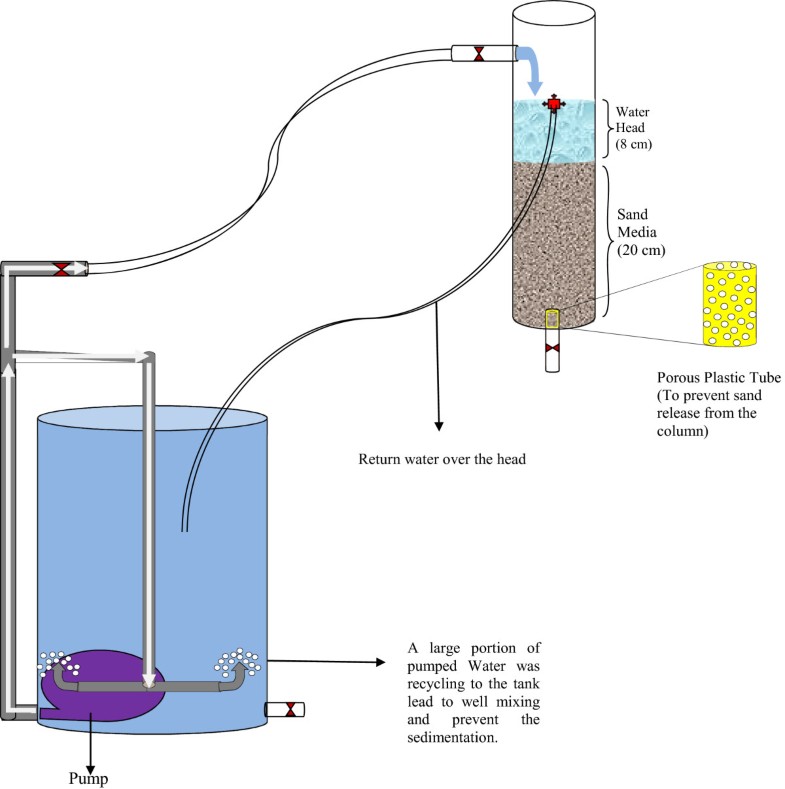 Instruments
Concentration of lead (Pb), zinc (Zn) and cadmium (Cd) in effluent were determined using a Perkin Elmer 2380 atomic absorption spectrometer. Nitrate and phosphate was determined using UV–vis spectrophotometer (HACH DR5000). Turbidimeter (Euteoh Instruments TN 100) was used to measure turbidity. Schott pH meter model CG-824 was used for pH analysis. Size and characteristics of nano particles was determined using Scanning Electron Microscope (SEM) and Energy Dispersive X-ray Analysis (EDXA).
Conclusions
In present study, natural sand and nano sized iron coated sand with and without applying magnetic field was used for treatment of synthetic urban runoff. Results indicate that nano sized iron oxide-coated sand has a significant efficiency to improve urban runoff quality. Nano iron coated sand was able to remove 75% of pollutant in average. In addition, in the case of magnetic field, removal efficiency was improved significantly; showing effectives of nano iron coated sand in the presence of magnetic field. Our results well demonstrate that present system is effective methods as compared with other existing methods for treatment of urban runoff containing, phosphate, turbidity, cadmium, lead and zinc. Although the real urban runoff must be applied to achieve real results and further studies are needed to implement of this system on a large scale.
Declarations
Acknowledgements
The authors would like to thank the Esfahan University of Medical Sciences for supporting of this work. In addition, we thank Hamadan University of Medical Sciences for supporting partial laboratory analysis.
Authors' Affiliations
(1)
School of Engineering, Edith Cowan University, WA, Australia
(2)
Department of Environmental Health Engineering, Environment Research Center, School of Health, Isfahan University of Medical Sciences, Isfahan, Iran
(3)
Department of Environmental Health Engineering, Faculty of Health, Alborz University of Medical Sciences, Karaj, Iran
(4)
Department of Environmental Health Engineering, School of Health, Hamedan University of Medical Sciences, Hamedan, Iran
Copyright
© Khiadani (Hajian) et al.; licensee BioMed Central Ltd. 2013
This article is published under license to BioMed Central Ltd. This is an open access article distributed under the terms of the Creative Commons Attribution License (http://creativecommons.org/licenses/by/2.0), which permits unrestricted use, distribution, and reproduction in any medium, provided the original work is properly cited.