Research article
Open Access
Soluble microbial products (SMPs) release in activated sludge systems: a review
Hamed Azami

1,

Mohammad Hossein Sarrafzadeh

1

Email author

and

Mohammad Reza Mehrnia

1
Iranian Journal of Environmental Health Science & Engineering
2012
9:30
Received: 5 December 2012
Accepted: 5 December 2012
Published: 18 December 2012
Abstract
This review discusses the characterization, production and implications of soluble microbial products (SMPs) in biological wastewater treatment. The precise definition of SMPs is open to talk about, but is currently regarded as "the pool of organic compounds that are released into solution from substrate metabolism and biomass decay"'. Some of the SMPs have been identified as humic acids, polysaccharides, proteins, amino acids, antibiotics, extracellular enzymes and structural components of cells and products of energy metabolism. They adversely affect the kinetic activity, flocculating and settling properties of sludge. This review outlines some important findings with regard to biodegradability and treatability of SMPs and also the effect of process parameters on their production. As SMPs are produced during biological treatment process, their trace amounts normally remain in the effluent that defines the highest COD removal efficiency. Their presence in effluent represents a high potential risk of toxic by-product formation during chlorine disinfection. Studies have indicated that among all wastewater post-treatment processes, the adsorption by granular activated carbon combined with biologically induced degradation is the most effective method for removal of SMPs. However, it may be concludes that the knowledge regarding SMPs is still under progress and more work is required to fully understand their contribution to the treatment process.
Keywords
Soluble microbial products (SMPs)EffluentBiodegradabilityWastewaterActivatedSludge
Introduction
Effluents from biological wastewater treatment systems contain a variety of colloidal and soluble organic compounds, including residual degradable or hard-biodegradable influent substrate, intermediates and end products, complex organic compounds formed through chain reactions with both intermediate and final degradation products categorizing as soluble microbial products (SMPs). The presence of complex residual microbial products in wastewater effluents was confirmed from the time when Gaffney and Heukelekian conducted a study dealing with comparison of oxidation rates of the lower fatty acids under various conditions [1]. Since then many researchers [2–5] have shown that the majority of the soluble organic materials in effluents produced through biological treatment processes are actually microbial products (SMPs). Their presence is an issue of great interest not only in terms of achieving current discharge standards, but also because they effectively set the lower boundary for treatment.
Since the application of membrane based technologies in wastewater treatment and its combination with biological processes in a system such as membrane bioreactor (MBR), more special attention was given to the SMPs due to their role in membrane fouling. Nowadays, many researches concentrate on SMP and their effect on performance of biological processes as the increasing amount of published articles during last two decades confirm it (Figure
1
).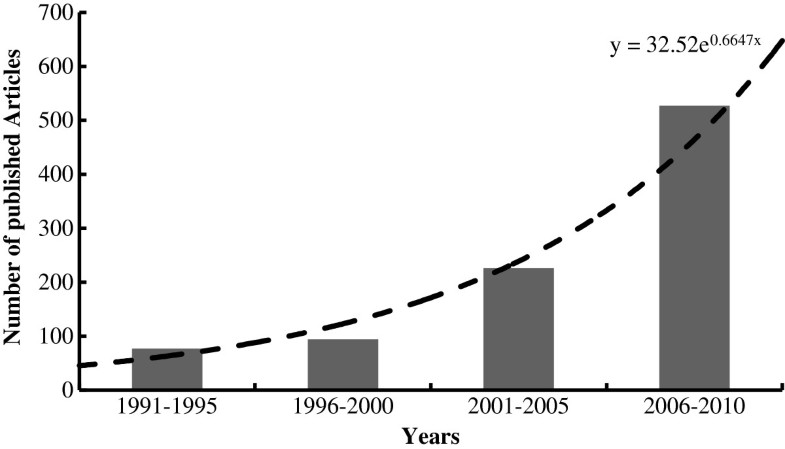 Paying attention to the presence of SMPs, has resulted in development of wastewater treatment systems. Previously, models of wastewater treatment systems had been based on the Monod models which predict the effluent composition of the rate limiting substrate independently of the influent substrate concentration. Monod models did not agree with experimental results and the interaction of SMPs formation paved the way for more accurate modeling of wastewater treatment [6].
Activated sludge models (ASMs) proposed by IWA are fundamentally based on first engineering principles, meaning that the model equations were developed from general balance equations applied to mass and other conserved quantities, resulting in a set of differential equations.
Many researchers tried to improve the activated sludge models by adding SMPs components into ASM1 and ASM3, and also by integrating the extracellular polymeric substances (EPSs) into ASM1 model [7–10].
Yoon et al. [11] proposed a kinetic model to calculate the sludge production and aeration requirement. Tian et al. [4] extended ASM3 model to ASM3-SMP with taking into account the concept of simultaneous storage and growth of SMPs by considering two components: Utilization associated product (SUAP) and Biomass associated products (SBAP). However, all of them (except [4, 7]) used parameters directly taken from literature derived from activated sludge systems or even biofilm systems.
These advances in modeling, resulted in a better understanding of how mixed bacterial populations work. Chemical structure of SMP compounds has also been clarified due to advances in chemical identification and analytical methods. Most of the works have focused on SMPs in aerobic systems, but some of researches have also investigated SMPs in anaerobic systems [12–14].
As mentioned above, SMPs are the main portion of contaminants in effluent of activated sludge not only increasing the BOD content of effluent, but also deteriorating settling properties of activated sludge. In addition, researches indicated that SMPs act as glue and bind the suspended flocs causing increase in activated sludge viscosity [15, 16]. Furthermore, SMPs as a kind of biopolymers have detrimental impact on activated sludge process [17]. The main obstacle to evaluate the impact of SMPs in wastewater treatment process is the difficulty in SMPs measuring especially in complex effluents [18].
Many works have been conducted on pure cultures and have defined feeds for better understanding and evaluation the effects of SMPs on treatment process. However, in industrial systems the phenomenon is more complicated and can be considered as an uncompleted task that needs to be studied more.
Despite the obvious importance of SMPs in wastewater treatment processes, a few publications have attempted to summarize all the information in a comprehensive review. Kimura et al. [19], performed a precise study of microbial product formation in biological systems which concentrated on: the measured characteristics of SMPs in biological processes; effect of sludge age; and the literatures on product formation and effect of product on membrane fouling in MBR. The objective of present paper is to review the currently available literature on SMPs, focusing on: their definition and their origin; biodegradability properties; the factors affecting the production of SMPs; and the treatment (i.e. removal) of SMPs. The current state of the art will be summarized and, finally, a closing section will address the future research needs with regard to SMPs.
Conclusion
Despite all of these mentioned studies, the knowledge regarding SMPs is still under progress and more works is required to fully understand their contribution in each biological treatment process. However, based on this review the current state of the art on SMPs can be summarized as the following main points:
As a result of the complicated measuring procedures of SMPs, their definitions are somewhat uncertain and depend on what point of view is taken. The most widely accepted definition for SMPs which comes from an engineering perspective is "organic compounds produced during microorganism metabolism and biomass decay". A basic operational definition is any soluble material that appears in the effluent while it was not present in the influent.

SMPs have been classified into two groups: substrate utilization associated products and biomass associated products. UAPs are associated with substrate metabolism and biomass growth and are produced at a rate proportional to the rate of substrate utilization, while BAP are associated with biomass decay and are produced at a rate proportional to the concentration of biomass.

SMPs are hardly biodegradable and the kinetic of their degradation is very slow.

SMPs can be removed from effluents using a variety of different technologies, but the most effective process is adsorption by granular activated carbon.

Discharging the SMPs could have deteriorating consequences on environment which needs developing the treatment processes undertaken for their removal. The solution lies on a collaboration between biologists and engineers. Biologists should generate more information on their production mechanisms, nature and properties, while the process engineers should be able to propose some solutions for their treatment in industrial plant scale.
Declarations
Acknowledgements
Authors would like to acknowledge the financial support of University of Tehran for this work under grant number 8104956/1/02. They, also, express their profound gratitude toward Sara Mafirad for her helps.
Authors' Affiliations
(1)
Biotechnology Group, School of Chemical Engineering, College of Engineering, University of Tehran, Tehran, Iran
Copyright
© Azami et al.; licensee BioMed Central Ltd. 2012
This article is published under license to BioMed Central Ltd. This is an Open Access article distributed under the terms of the Creative Commons Attribution License (http://creativecommons.org/licenses/by/2.0), which permits unrestricted use, distribution, and reproduction in any medium, provided the original work is properly cited.