Research article
Open Access
Modeling Caspian Sea water level oscillations under different scenarios of increasing atmospheric carbon dioxide concentrations
Iranian Journal of Environmental Health Science & Engineering
2012
9:24
Received: 4 December 2012
Accepted: 4 December 2012
Published: 12 December 2012
Abstract
The rapid rise of Caspian Sea water level (about 2.25 meters since 1978) has caused much concern to all five surrounding countries, primarily because flooding has destroyed or damaged buildings and other engineering structures, roads, beaches and farm lands in the coastal zone. Given that climate, and more specifically climate change, is a primary factor influencing oscillations in Caspian Sea water levels, the effect of different climate change scenarios on future Caspian Sea levels was simulated. Variations in environmental parameters such as temperature, precipitation, evaporation, atmospheric carbon dioxide and water level oscillations of the Caspian sea and surrounding regions, are considered for both past (1951-2006) and future (2025-2100) time frames. The output of the UKHADGEM general circulation model and five alternative scenarios including A1CAI, BIASF, BIMES WRE450 and WRE750 were extracted using the MAGICC SCENGEN Model software (version 5.3). The results suggest that the mean temperature of the Caspian Sea region (Bandar-E-Anzali monitoring site) has increased by ca. 0.17°C per decade under the impacts of atmospheric carbon dioxide changes (r=0.21). The Caspian Sea water level has increased by ca. +36cm per decade (r=0.82) between the years 1951-2006. Mean results from all modeled scenarios indicate that the temperature will increase by ca. 3.64°C and precipitation will decrease by ca. 10% (182 mm) over the Caspian Sea, whilst in the Volga river basin, temperatures are projected to increase by ca. 4.78°C and precipitation increase by ca. 12% (58 mm) by the year 2100. Finally, statistical modeling of the Caspian Sea water levels project future water level increases of between 86 cm and 163 cm by the years 2075 and 2100, respectively.
Keywords
Global warmingGeneral circulation modelCarbon dioxideCaspian sea water oscillations
Background
It is generally expected that increasing atmospheric concentrations of greenhouse gases, especially CO2, will lead to substantial global-scale climate changes over the next few decades. A probable consequence of these changes would be alterations in local and global sea level. Predictions of sea level change, especially sea level rise, are of considerable importance because of environmental and economic impacts, in particular on populations that inhabit low lying areas [1].
The Caspian Sea is the world's largest lake which is located within the borders of five countries and thus serves as an important economic resource to these contries (Figure
1
). The lake basin is generally divided into northern, mid and southern sections [
2
–
4
]. The Caspian Sea has existed for ca. 5.5 million years and accounts for 75% of the total volume of saline lakes. The lake is ca. 1200 km in length and averages 300 km in width. The Caspian Sea drainage basin extends from 30°N to about 62°N, covering an area of approximately 3.5 × 10
6
km
2
. About 130 rivers flow into the sea, the largest of which is the Volga river which drains into the northern shelf of the Caspian Sea and accounts for approximately 80% of the total basin runoff.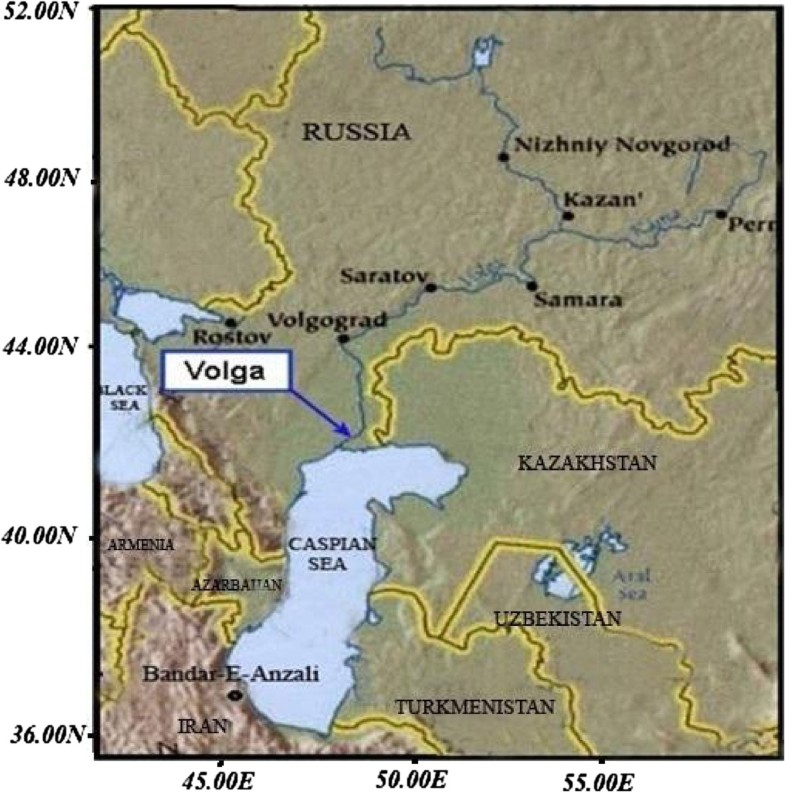 The Caspian Sea is a closed water body which has a basin water budget and associated Caspian Sea level which is very responsive to inter-decadal climate fluctuations [5–8]. It is generally accepted that climate-induced changes in the hydrological budget of the Caspian Sea are the main cause of such CSL fluctuations. However, geological processes are also thought to influence the CSL, including tectonic movements [9, 10] and deep groundwater flows between the Aral Sea and the Caspian Sea. In addition, anthropogenic activities such as land-use changes and reservoir developments have affected the CSL during the 20th Century [11].
The Caspian Sea Level (CSL) has experienced considerable fluctuations during geological and historical times, and in particular, has risen 13 cm per year between 1977 and 1995, and continues to rise [12, 13]. Historical observations and archaeological studies have revealed that the level of the Caspian Sea has varied by up to 8 m during the last 2 K years. The lowest recorded value occurred in 1977 at -29 m (i.e. below ocean level relative to that of the Baltic Sea). Since 1977, the sea level started to rise at an alarming rate, to a value of more than -27m [14, 15]. Although recent past fluctuations of the lake have been calculated and discussed, little work has focused on current and future projected sea level changes. There are several important factors contributing to the oscillations of the Caspian Sea water level; one of the most important of these is regional climate change (warming), likely associated with increases in atmosphere carbon dioxide concentrations.
Even if there were a single country that surrounded the Caspian Sea, there would still be problems and tradeoffs in providing solutions related to the sea level rise, pollution, and resource development. However, because there are multiple countries involved, shared legacy, pollution and management issues, emergent highly profitable resources, divergent cultures, and debates over the scientific explanations for the sea level rise, there will continue to be environmental vulnerability associated with the Caspian Sea level rise [16, 17]. Given that the water level changes in this sea have significant impacts on the environment, there have been numerous studies focusing on the Caspian Sea water level oscillations [12, 18–30], and most of these have attempted to examine Caspian Sea level oscillations associated with climate changes and project future levels. The focus of our study is also to evaluate the impact of global warming, but more particularly to address a research gap by examining the role of associated CO2 levels on the CSL under different scenarios of Atmospheric Carbon Dioxide increases.
Materials and methods
In order to gain better insight into the recent past relationships between Co2 and sea level fluctuations, temperature and precipitation data over the Caspian Sea region were analyzed over a 55 year period (1951-2006). To simulate future trends of Caspian Sea levels under global warming conditions, various climate change scenarios were generated for both the Caspian Sea region and Volga river basin using the MAGICC SENGENE model. Finally, Step Wise multiple regressions and SPSS (Statistical Package for the Social Sciences) software were used to model future Caspian Sea levels.
Discussion
This paper examines the impact of CO2 increases on Caspian Sea water levels, which in turn influence a variaty of climate variables including temperature. Despite mean daily maximum temperatures having decreased by 0.16°C/decade (r=0.37), daily minumum and mean temperatures have increased at rates of 0.45°C/decade (r=0.27) and 0.17°C/decade (r=0.21), respectively for the southern Caspian Sea region of Bandar-E-Anzali for the period 1951-2006. In addition, evaporation levels have increased at a rate of 7 mm/decade (r=0.24) during the same statistical period. Results for the Volga River Basin, which is the primary hydrological input to the Caspian Sea, indicate a mean temperature increase of 0.25°C/decade (r=0.27) and rate of evaporation increase of 4.4 mm/decade (r=0.18) for the period 1951-2006.
The Caspian Sea water level has increased at a rate of 36 cm/decade (r=0.82) in relation to CO2 and temperature increases from the 1950s to 2000s. To simulate future climate scenarios the UKHADGEM model through the MAGICC SCENGEN software was used, which includes the application of five alternative scenarios using A1CAI, BIASF, BIMES, WRE450 and WRE750. The most pessimistic projection outcomes are associated with A1CAI (CO2 = 1100 ppm) whilst the most optimistic are using WRE scenarios (CO2 = 450 ppm) by the year 2100. Further to this, the highest projected temperature increases for the Caspian Sea and Volga river basin are 5°C and 6°C respectively, using the A1CAI scenario, whilst the lowest increases are projected using the WRE450 scenario (2°C and 3°C respectively). Mean projected temperature increases for the Caspian Sea and Volga River Basin are 3.46°C and 4.78°C respectively by the year 2100. Mean projected precipitation values are calculated to decrease by 10% (182 mm) over the Caspian Sea and increase by 12% (58 mm) in Volga River Basin by the year 2100. Based on statistical modeling, we project Caspian Sea levels to increase by 85.73 cm and 162.71 cm by the years 2075 and 2100 respectively.
Conclusion
It is anticipated that major cities adjacent to the Caspian Sea, such as Anzali and Ramsar amongst others, need to plan for such sea level rises which would be accompanied by the flooding of agricultural land, possible structural damage in the coastal zone through wave erosion, and changes in the coastal zone ecology. It is suggested that any planned construction and development in the current coastal zone needs to heed to the warning that water levels are likely to continue rising for the next few decades to come.
Declarations
Acknowledgements
We thank Dr. Clement Tisseuil from Université de Toulouse for his kind assistance in climatic data preparation of the Volga Basin. We also thank the managers of the CRU site (Climatic Research Unit) which provides free climatic data to users. Particular thanks go to the Ports and Maritime Organization of the Islamic Republic of Iran for preparing of the water level of the Caspian Sea data for us.
Authors' Affiliations
(1)
Department of Geography, Golestan University, Gorgan, Iran
(2)
Faculty of Geography, Department of Physical Geography, University of Tehran, Tehran, Iran
(3)
School of Geography, Archaeology and Environmental Studies, University of the Witwatersrand, Johannesburg, South Africa
Copyright
© Roshan et al.; licensee BioMed Central Ltd. 2012
This article is published under license to BioMed Central Ltd. This is an Open Access article distributed under the terms of the Creative Commons Attribution License (http://creativecommons.org/licenses/by/2.0), which permits unrestricted use, distribution, and reproduction in any medium, provided the original work is properly cited.