Research article
Open Access
Experimental study of dye removal from industrial wastewater by membrane technologies of reverse osmosis and nanofiltration
Mohammad Fadhil Abid

1

Email author

,

Mumtaz Abdulahad Zablouk

1 and

Abeer Muhssen Abid-Alameer

2
Iranian Journal of Environmental Health Science & Engineering
2012
9:17
Received: 28 November 2012
Accepted: 28 November 2012
Published: 5 December 2012
Abstract
Currently, biological method has been utilized in the treatment of wastewater -containing synthetic dyes used by textile industries in Iraq. The present work was devoted to study the operating feasibility using reverse osmosis (RO) and nanofiltration (NF) membrane systems as an alternative treatment method of wastewater discharged from Iraqi textile mills. Acid red, reactive black and reactive blue dyes were selected, based on the usage rate in Iraq. Effects of dye concentration, pH of solution, feed temperature, dissolved salts and operating pressure on permeate flux and dye rejection were studied. Results at operating conditions of dye concentration = 65 mg/L, feed temperature = 39°C and pressure = 8 bar showed the final dye removal with RO membrane as 97.2%, 99.58% and 99.9% for acid red, reactive black and reactive blue dyes, respectively. With NF membrane, the final dye removal were as 93.77%, 95.67%, and 97% for red, black and blue dyes, respectively. The presence of salt (particularly NaCl) in the dye solution resulted in a higher color removal with a permeate flux decline. It was confirmed that pH of solution had a positive impact on dye removal while feed temperature showed a different image. A comparison was made between the results of dye removal in biological and membrane methods. The results showed that membrane method had higher removal potential with lower effective cost. The present study indicates that the use of NF membrane in dye removal from the effluent of Iraqi textile mills is promising.
Keywords
Membrane separationSynthetic dyesReverse osmosisNanofiltrationWastewater reuse
Introduction
Large quantities of wastewater which contains toxic organic residues are generated from the textile and dye manufacturing processes. Synthetic dyes are considered the most difficult to treat because they contain complex aromatic molecular structures, which make them more stable and more difficult to be biodegraded [1, 2]. Due to their chemical structure, dyes are resistant to fading on exposure to light, water, and many chemicals [3].
There are many structure varieties such as acidic, basic, disperse, azo, diazo, anthroquinone based, and metal complex dyes. These dyes are very stable and can be decomposed only at temperatures higher than 200°C. For this reason, synthetic dyes often receive considerable attention from researchers in textile wastewater treatment processes [4].
The present work will focus on separation by two types of pressure-driven membranes which are reverse osmosis (RO) and nanofiltration (NF) membranes. NF is characterized by a membrane pore size between 0.5 and 2 nm and operating pressures between 5 and 40 bars. It is used to achieve separation between sugars, other organic molecules and multivalent salts on one hand and monovalent salts, ions and water on the other. RO or hyperfiltration is characterized by a membrane pore size in the range of 0.5 nm. The operating pressures in RO are generally between 7 and 100 bars. The importance of these membrane processes can be judged from the membrane area installed in various industrial sectors. The ability of RO membranes to remove both organic and inorganic compounds has made it attractive for the treatment of contaminated drinking water supplies [5]. Reverse osmosis processes can simultaneously remove hardness, color, many kinds of bacteria and viruses, and organic contaminants such as agricultural chemicals and trihalomethane precursors.
[6] stated that a combination of NF/RO for nitrate removal would suffer less from scaling than a single RO because of CaSO4 and CaCO3 removal in the NF step. Cristiane et al.[7] studied the application of nanaofiltration process mainly in the rejection of color and chemical oxygen demand (COD) present in textile industry wastewater. The results of the tests showed the values for color rejection were around 99% and 87% for COD rejection. The process was efficient and promising for the reuse of wastewater for this type of industry. Al-Aseeri [8] investigated the removal of sodium chloride and acid red dye from aqueous solutions. Three acid dye concentrations (0.10, 100 and 200 mg/L) and three NaCl concentrations (100, 1000 and 5000 mg/L) were used. Results showed that in the absence of NaCl, color removal of 97.2% was achieved and this number was elevated to 98.2% at dye concentration of 200 mg/L when 1000 mg/L NaCl was added to the colored water.
[9] investigated the effluents from the cotton textile industry which were treated by nanaofiltration membrane in order to reduce the quantity of the disposed water and at the same time to reuse the treated water. Results showed that NF membranes could achieve complete decolorization of the cotton dye effluent and reduced the total salt concentration more than 72%. These membranes can be used even at high recoveries and reasonably low pressures, producing high quality water, which can be reused. [10] investigated the treatment of secondary effluent for wastewater reuse in the textile industry; in their work, they used (NF90) membrane. Results showed that NF90 yielded a COD reduction of 99% and the highest salt rejection (75%-95%). As the permeate quality was obtained, the levels of COD removal and salt rejection were not significantly affected by fouling and that high flux percentage could be retrieved after cleaning.
The rejection efficiency of organic and salt decreased with the decrease in pH, because of osmotic pressure increase, leading to permeate flux decline and decrease in salt passage. In addition, the improved salt rejection was likely due to Donnan exclusion by humic material close to membrane surfaces. The average rejection efficiency of humic acid and salt ranged between 91.2%-95.25% and 63.6%-80%, respectively.
Currently, biological method has been utilized in the treatment of wastewater containing synthetic dyes used by textile industries in Iraqi. The present work is devoted to study the operating feasibility of pressure-driven membrane system as an alternative treatment method of such a wastewater.
Results
Three types of dyes (acid red, reactive black and reactive blue) were selected, based on usage rate in Iraq. The effects of dye concentration, pH of solution, feed temperature, dissolved salts, and operating pressure on dye removal and permeate flux were examined (Figures
3
,
4
,
5
,
6
,
7
, and
8
). Figure
9
presents a comparison for acid red dye removal between membrane separetion and biological method. Results and corresponding figures are presented in a way to view, on the same plot, the performance of RO and NF membranes utilized in the present work.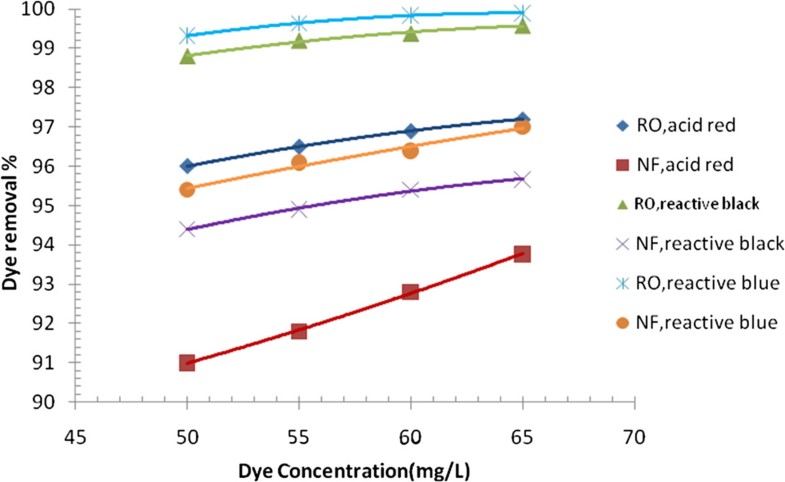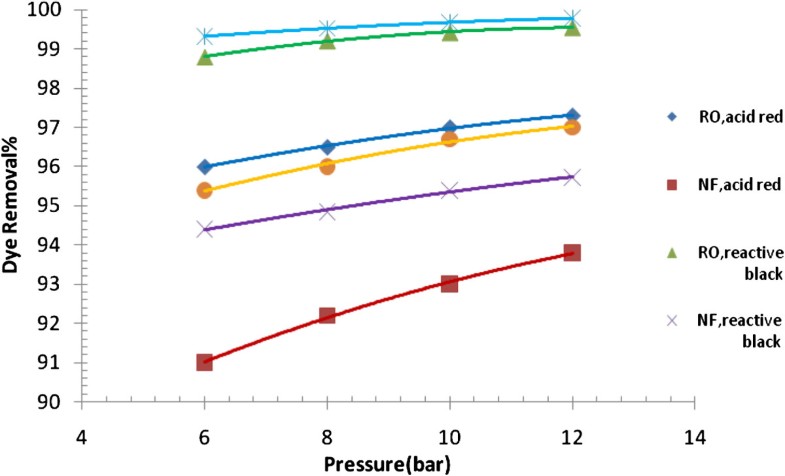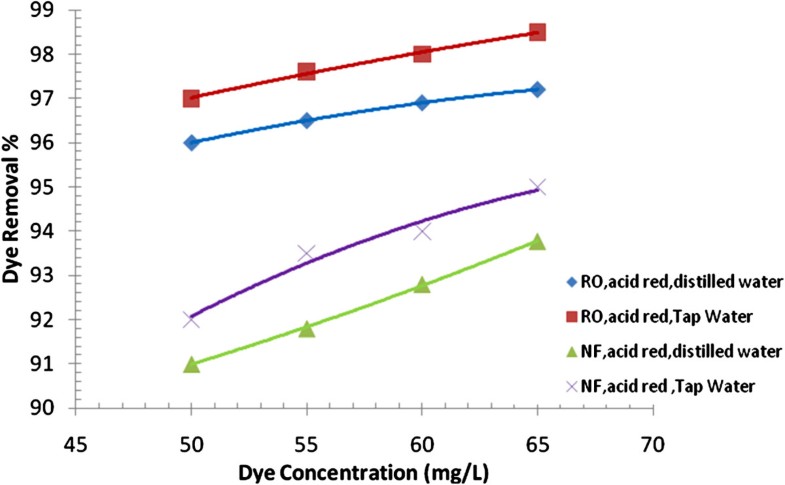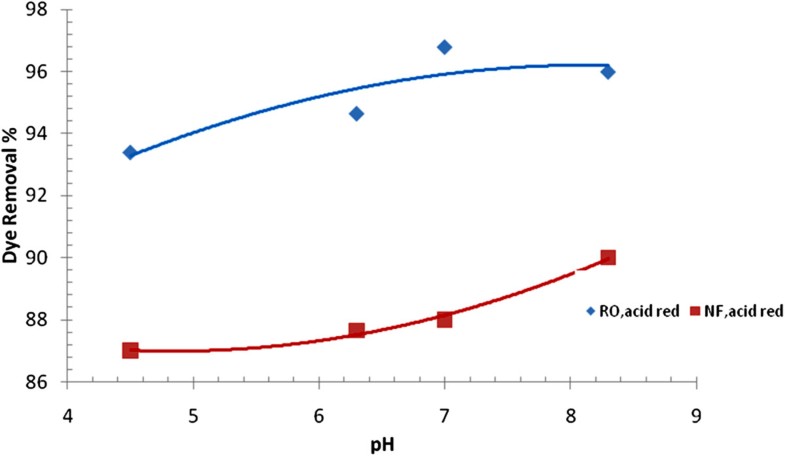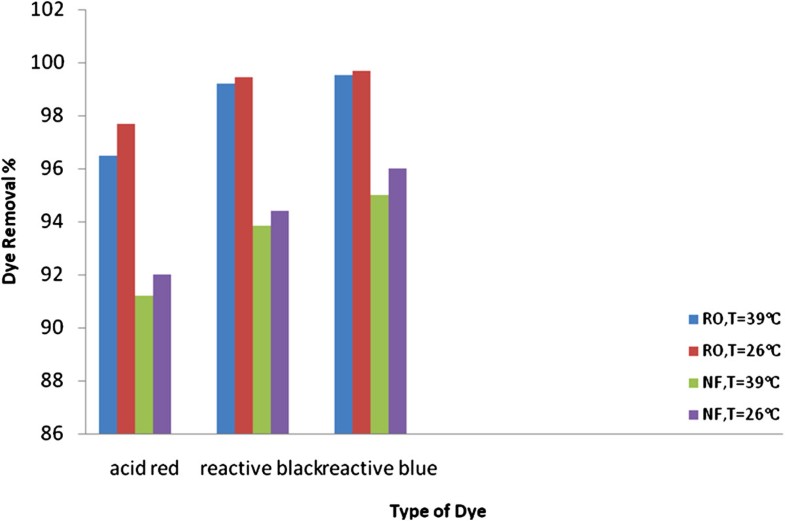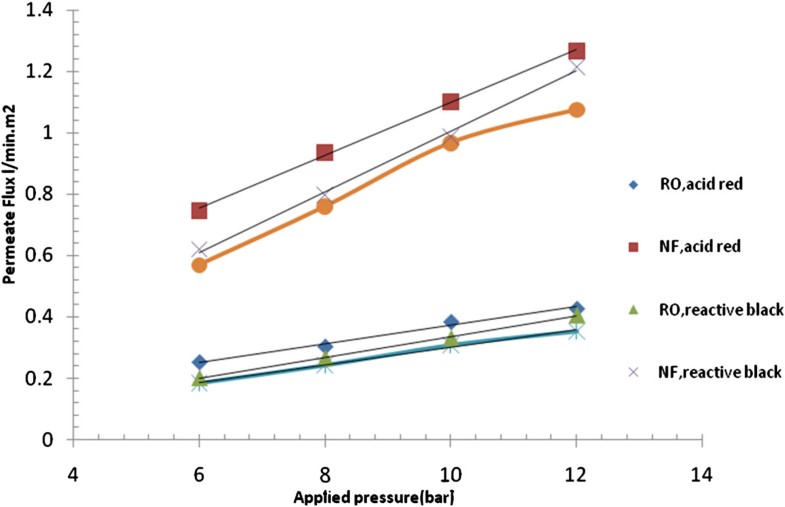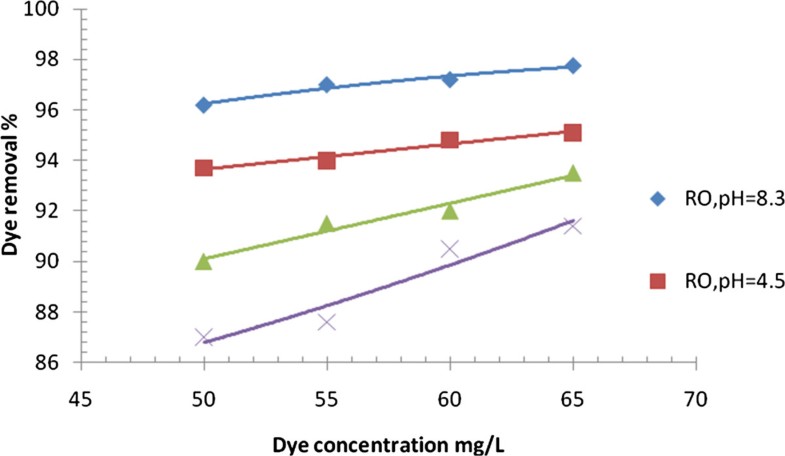 Conclusion
From the present work the following conclusions can be drawn: RO and NF membranes used in present study proved to be efficient tools to remove dye substance from effluent wastewater of Iraqi textile mills. Dye removal from wastewater was positively related to applied pressure, pH, TDS and dye concentration in feed solution, but it was inversely related to feed temperature. Applied pressure and solution temperature have positive impact on permeate flux from RO and NF membranes. But it was inversely related to dye concentration and pH. Wastewater with acid dye treated by RO or NF membranes result in lower rejection and higher permeates flux than wastewater with reactive dyes. It was found that the order of effect of the operating variables on dye removal of NF and RO membranes was in the following sequence: C > pH > P > TDS.
At the same operating conditions, one could get from NF system twice the permeated environmental accepted water flow rate and about 50% less electric power instead of RO membranes. The reduction of electric power came directly from the reduction of the operating pressure of the unit with NF membrane. Results indicated that the use of NF membrane in dye removal from wastewater of the Iraqi textile mills is promising and can be used with higher efficiency instead of the current biological method.
Declarations
Acknowledgements
The authors are thankful to the Chemical Engineering Department-University of Technology, for providing space and facilities. Thanks are also due to the staff of 14-Ramadhan textile mill that has supported this work.
Authors' Affiliations
(1)
Department Chemical Engineering, University of Technology, Baghdad, Iraq
(2)
Ministry of environment, Baghdad, Iraq
Copyright
© Abid et al.; licensee BioMed Central Ltd. 2012
This article is published under license to BioMed Central Ltd. This is an Open Access article distributed under the terms of the Creative Commons Attribution License (http://creativecommons.org/licenses/by/2.0), which permits unrestricted use, distribution, and reproduction in any medium, provided the original work is properly cited.